Bath time is more than simply a habit for children, it is an adventure to make their bathing moment more enjoyable. Splashing around in the bathtub, playing with rubber toys, and relaxing in the bath is what kids love to do. Bathrobes afterwards will enhance their excitement to get the touch of comfort and fun. In this blog, we will delve into the fascinating experience of bathrobe for kids from Babymrkt, as they have a wide range of cute, cosy, and warm bathrobes. Also, we will get to know about the features of bathrobe for kids, how to choose the correct one, and what will be the choice of your kids.
Importance of Bathrobe for Kids
Bathrobes for kids are more than staple towels to soak the water post-bathe. They are not just adorable but also used for multiple purposes and bring several advantages for the kids-
1. Comfort and Warmth
After a bath or swim bathrobes provide warmth and comfort to the kids and help them to dry off the water and stay warm.
2. Quick Absorption
Compared to towels, bathrobe for kids are good absorbent. They absorb the excess moisture and make the skin dry, reducing chills.
3. Ease of Dressing
Bathrobe for kids are easy to put on and you don't have to worry about dressing them up immediately after a bath. These are reliable to take off and your kid can even dress up by himself afterwards.
4. Cute and Fun
Bathrobes come in a range of colourful and creative patterns, allowing kids to show their personality and hobbies by selecting the perfect one for them.
5. Protection
They are good protectors against cold surfaces and chilled weather. A bathrobe can be excellent for the post-bath in the morning as well as in the evening.
6. Outfit for Bedtime
Bathrobes can be used as part of the bedtime routine. They are easy to wear for children and can be fun and calming down for a sleep.
Cutest and Adorable Bathrobe for Kids Wardrobe
To get some cute shower bathrobe for kids, you should not miss out on these adorable collections from Babymarkt
1. Sterntaler Bathrobe mabel pink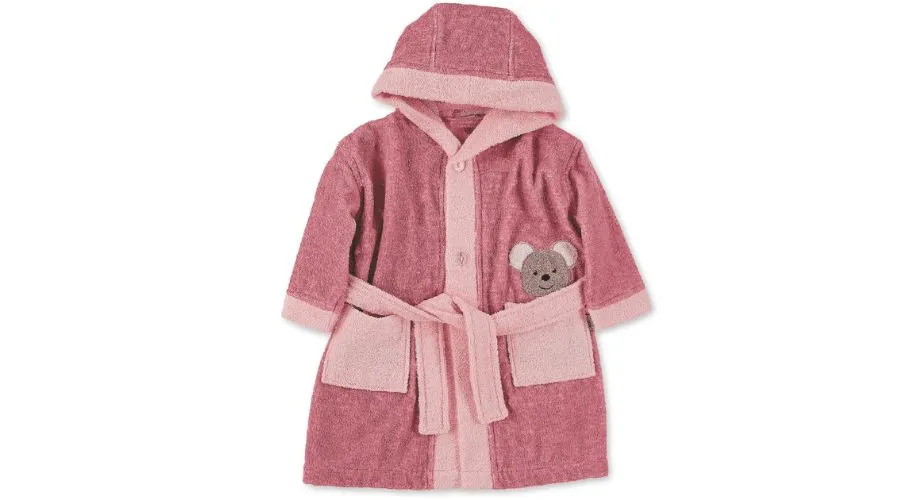 With a new collection for bathrobe for kids, Babymarkt has bought a new collection for the kids after bath comfort. This Sterntaler bathrobe in Mabel pink colour is something every kid will love. Made from 100% cotton, has soft terry cloth with an appliqued mouse embroidery motif to ensure that you can cuddle up after bathing. So go for this bathrobe as it also has front pockets on both sides with a waist belt to adjust the size.
---
2. Koeka Baby Bathrobe luz tone
Your baby will be irresistibly cute in this baby bathrobe. Koeka baby bathrobe is a great product for bathing by the pool or on a vacation. The Koeka baby bathrobe for kids has a hood that keeps your child's head warm when they come out of a shower. The bathrobe is made of absorbent terry cloth and closes with a loop. The details make the bathrobe particularly cute. The logo on the sleeves becomes visible when you turn them over.
---
3. Cereal Bathrobe with floppy ears breeze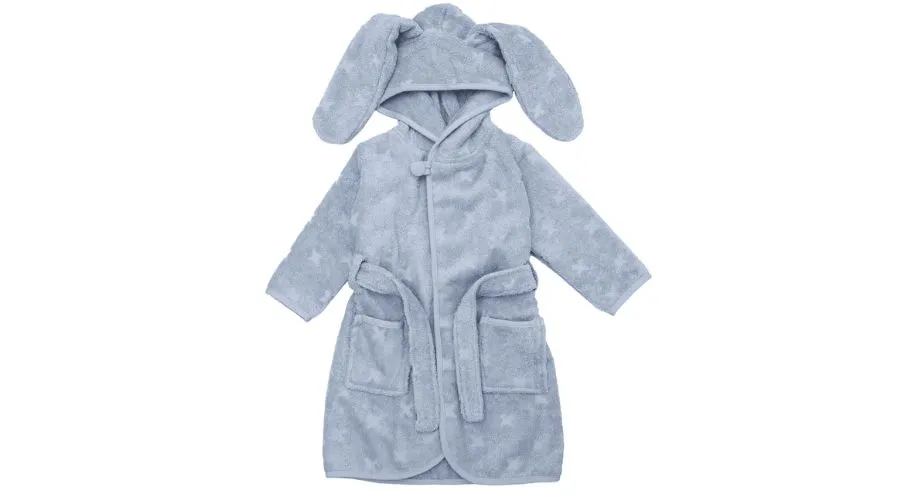 This bathrobe for kids is made from pure organic cotton. It has a hood with floppy ears and patch pockets on the front. The elastic band at the waist ensures particularly good support and dimensional stability. The belt is fixed and therefore cannot be lost. The product is GOTS organic certified. This product is soft on the skin and gives warmth and comfort to the kids after a bath.
---
4. Playshoes terry bathrobe The Mouse aqua blue
Playshoes terry bathrobe for kids is in a totally different design and pattern. It is made from 100% cotton fabric making it cuddly soft and warm for the children. It is super fluffy terry cloth, has a large hood, a long hem design, and a belt and practical button in the neck area. With TV favourite,  Die Maus the border in contrasting colours is perfect for your kids. The light blue colour will look bright and adorable on the kids and they even come in two other colours.
---
Also Read – 10 Healthy Foods to Fuel Your Little Ones: A Guide for Parents
---
Conclusion
Concluding that bathrobe for kids are more than just post-bath comfort. Bathtime and sleep routines are enjoyable for both children and parents as they provide a source of warmth, personal touch, comfort, and a canvas to self-express by selecting one for them. These bathrobes from Babymarkt play an important role in kids' everyday lives from their soft fabrics to the fanciful designs that encourage the creativity of the kid. You can choose one perfect bathrobe for kids from these referred products. Also, do check out the important features that these bathrobes hold. For more information, you should visit Xprrtupdates to get ideas and tips on how to buy these bathrobes.
FAQs