Elephant figurines, with their majestic and regal presence, have long held a special place in cultures around the world. These enchanting figurines aren't just exquisite pieces of art; they are also believed to bring good luck and positive energy to their owners. In this comprehensive guide, we'll delve into the symbolism and history behind elephant figurines, explore why they are associated with good luck, and provide valuable insights into how to display them and where to purchase these charming pieces.
1. Why Elephant Statues Represent Good Luck: The Symbolism of Elephants
1. Strength and Stability: Elephants are often associated with qualities like strength and stability due to their large size and solid presence. In many cultures, this symbolism translates into the belief that elephant figurines can bring stability and strength to one's life.
2. Wisdom and Intelligence: Elephants are known for their remarkable memory and problem-solving abilities. This association with wisdom and intelligence contributes to the belief that elephant figurines can guide us through challenges and help us make wise decisions.
3. Positive Energy: In Feng Shui, an ancient Chinese practice that harmonizes energies in living spaces, elephant figurines are considered symbols of positive energy. They are believed to attract good fortune, wealth, and success.
4. Protection and Good Fortune: In Hinduism, Lord Ganesha, the deity with an elephant head, is revered as the remover of obstacles and the god of beginnings. This connection to protection and good fortune has cemented the elephant's status as a symbol of auspiciousness.
---
2. The Number six and elephant figurines: Are six elephants figurines good luck?
1. Delving deeper into the intriguing world of elephant figurines, it's worth exploring the mystical significance that the number six holds in conjunction with these captivating pieces of art. While individual elephant figurines possess their own inherent symbolism and charm, some practitioners of Feng Shui, the ancient Chinese practice that seeks to harmonize the energies within living spaces, hold a special reverence for the grouping of six of these magnificent creatures.
2. The number six, according to Feng Shui principles, is associated with a harmonious and prosperous existence. It symbolizes not only harmony but also wealth and the smooth flow of relationships—qualities that many aspire to cultivate in their lives. By thoughtfully arranging six elephant figurines in your home or workspace, you are believed to harness the potent energy of this sacred number. This assembly serves as a powerful symbol, acting as a magnet to attract harmony, prosperity, and positive relationships into your surroundings. It's as though these six elephants collectively channel the inherent strength and grace of their real-life counterparts, creating an atmosphere of balance, abundance, and tranquility in your chosen space.
---
3. Various meanings and interpretations: What do elephant figurines represent?
1. Protection: Elephant figurines are often seen as protectors of the home. Placing them near entrances or doorways is believed to ward off negative energies and ensure the safety of the household.
2. Success: Due to their association with strength and wisdom, elephant figurines are thought to enhance one's chances of success in various endeavors, from career to personal goals.
3. Family and Unity: Elephants are known for their close-knit family structures. As a result, elephant figurines can symbolize family unity and a strong bond among loved ones.
4. Memory and Ancestry: In some cultures, elephant figurines represent a connection to one's roots and ancestry, emphasizing the importance of remembering one's heritage.
---
4. List of best elephant figurines
1. Sculptures Figurines – animal statues / elephant craft / handmade / kids room desk / display home decor / Nordic luxury / decorative housewarming gifts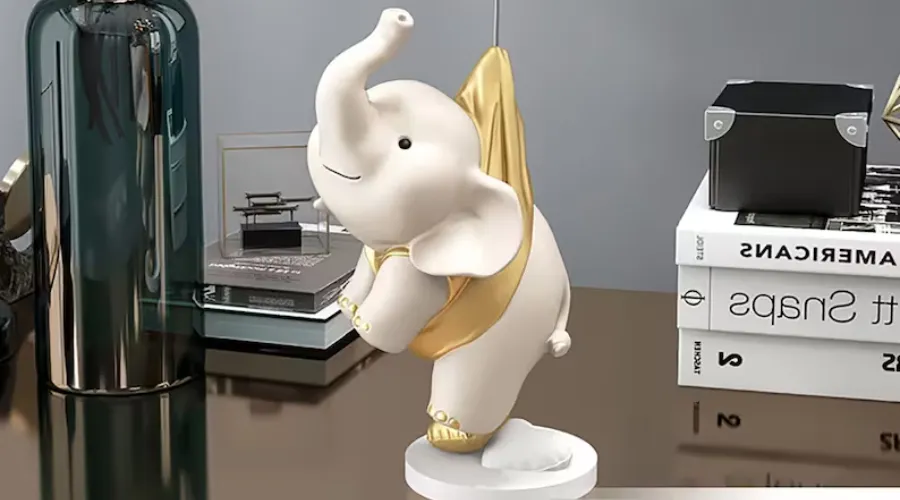 This handcrafted resin sculpture, measuring 13 centimeters in width and 36 centimeters in height, serves as an exquisite addition to your decor and is suitable for various settings such as living rooms, bedrooms, studies, offices, and more. Its modern, Nordic-inspired design offers a touch of luxury and artistry, making it an ideal choice for housewarming, birthday, wedding, Christmas, or Mother's Day gifts. Packaged securely in styrofoam and a box, this decorative piece is not only a captivating home accent but also a thoughtful handmade gift option.
---
2. Large metal elephant / garden and patio decoration/ decorative art elephant
Crafted by hand from durable metal and iron, this striking large elephant sculpture showcases an intricately designed rustic appearance with an enchanting metal pattern. Suitable for both indoor and outdoor placement, this beautiful piece measures approximately 90cm (36 inches) in height and 80cm (32 inches) in width. Rest assured, all our products are meticulously packaged and shipped with insurance for added peace of mind, ensuring your treasured decor arrives in perfect condition.
---
3. Meditation Clay Pottery – Elephant Figurine / made of Yixing Zisha doll / Handmade ceramic tea pet / funny fish tank decor / small elephant ornament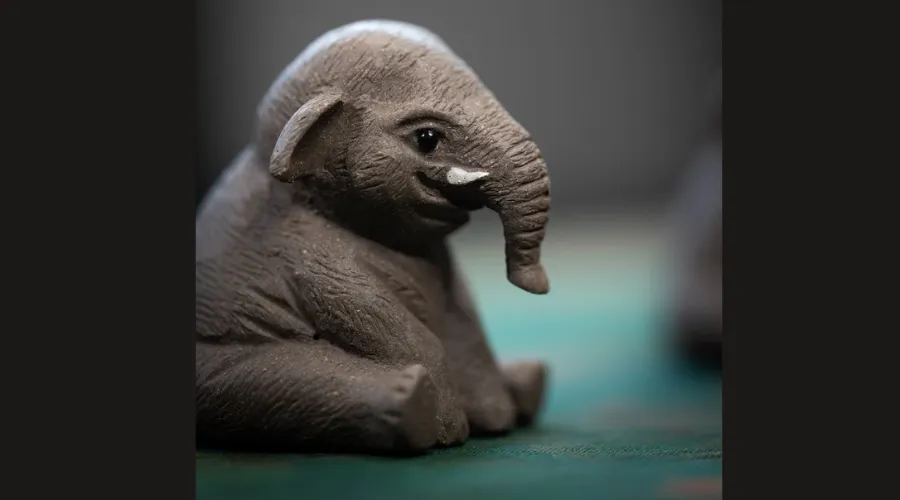 This charming handmade ceramic tea pet, measuring 4 centimeters in width, 4.3 centimeters in height, and 4 centimeters in depth, weighs approximately 161 grams. Crafted from materials like clay, purple sand, and pottery, this tea pet is not only lovely but also carries cultural significance. Tea pets, also known as Chachong, are small pottery figures traditionally kept by tea drinkers for good luck. Made from "zisha" or Yixing clay, these unglazed figurines absorb tea during tea ceremonies, gradually changing color and building a tea scent over time. Placed on a tea tray, the tea pet becomes an integral part of the tea-drinking ritual, evolving in appearance with each tea pour, creating a unique and treasured piece of tea culture.
---
4. Ceramic Elephants – Couples Statue / Nordic Style Figurines in Beige Grey / Table Ornament / Creative Animal / Living Room Decor / Sculpture / Home Crafts
Crafted with care from ceramic, this enchanting Twin White Elephants Figurine Set serves as a charming desktop decoration, ideal for adding a touch of romance to weddings or parties. These delightful elephant statues not only make for an exceptional decorative symbol for couples but also make for beautiful gifts, perfect for women, and an enchanting Valentine's Day surprise. Available in two sizes, with dimensions of S: 4410cm/1.571.573.94in and L: 5.55.515cm/2.172.175.91in, these figurines exude elegance and sentiment through their ceramic craftsmanship.
---
5. Minimalist Style Elephant Statue Decor – Wedding Lucky Animal Figurine / Sculpture Display/  Statue Baby / Shelf Decor / Elephant Lover Ideal Gift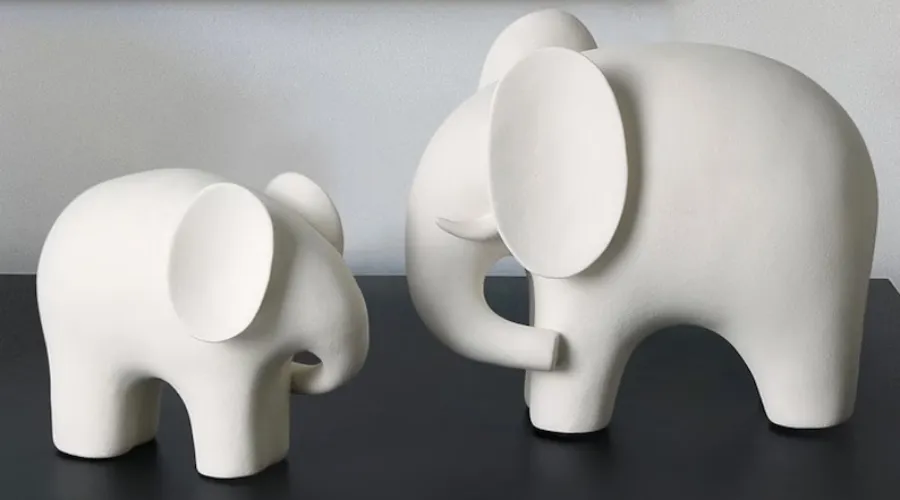 Exquisitely handcrafted from durable resin material, this abstract elephant statue makes a stunning enhancement to any living space or workplace. With its meticulous attention to detail, it skillfully encapsulates the majestic and graceful essence of the mighty elephant. This timeless piece, available in a pristine white hue, promises longevity, ensuring it graces your surroundings for years to come. Available in two sizes, S: 1214 cm/4.725.51 in and L: 1720 cm/6.697.87 in, and boasting a minimalist design, this elephant figurine is a testament to the blend of artistry and simplicity. Add a touch of elegance to your decor with this exquisite piece that captures the essence of the elephant's beauty and strength.
---
5. How to display elephant figurines: Creating an aesthetic and meaningful display
Focal Point: Make your elephant figurines a focal point in your decor. Place them on a mantelpiece, shelf, or coffee table where they can catch the eye and serve as a conversation starter.
Grouping: Consider clustering your elephant figurines together to amplify their symbolic power. A group of figurines can create a visually appealing and meaningful display.
Incorporate Nature: To enhance the natural feel of elephant figurines, surround them with plants or natural materials like wood and stone. This can create a harmonious and serene atmosphere.
Entranceway: Placing elephant figurines near the entrance of your home is a popular choice as they are believed to protect the household from negative influences.
---
6. Exploring Your Options: Where to Buy Elephant Figurines
Online Marketplaces: Websites like Etsy, as seen in this Etsy Elephant Figurine collection, offer a vast array of elephant figurines crafted by artisans from around the world. Online marketplaces provide a wide selection and convenient shopping.
Artisan Fairs and Craft Shows: Local artisan fairs and craft shows often feature unique and handcrafted elephant figurines. These events are an excellent way to support local artists and find one-of-a-kind pieces.
Specialty Gift Shops: Some specialty gift shops focus on spiritual and cultural items, including elephant figurines. These shops can provide expert guidance on the symbolism and selection of your figurines.
Antique Stores: If you're interested in vintage or antique elephant figurines, antique stores or auctions can be treasure troves for unique finds with historical significance.
---
Conclusion
Etsy, the renowned online marketplace for artisanal and unique creations, boasts an exquisite array of elephant figurines that cater to a wide range of tastes and preferences. From intricately handcrafted ceramic pieces to finely detailed resin sculptures, Etsy's collection showcases the artistry and craftsmanship of talented creators from around the world. Whether you're drawn to the cultural symbolism of these majestic creatures or simply appreciate their aesthetic appeal, you'll find a diverse selection of elephant figurines in various materials, sizes, and styles to suit your decor or collection. Explore Etsy's treasure trove of elephant figurines and discover the perfect piece to adorn your living space or to gift to a loved one.
FAQs