Queenstows has no shortage of adrenaline and you can easily get yourself a dose with a good vacation to the quaint town in the South Island in New Zealand. The place is home to the famous bungee jumps, amazing jet boat thrills along the beautiful banks of the Shotover River and the many beautiful hotels in Queenstown. In this blog, Xprrtupdates will talk about the best places you can consider for a stay and some amazing hotels in Queenstown for a comfortable vacation. 
Best Places to look for Hotels in Queenstown 
Central Queenstown 
Central Queenstown is located on the shores of Lake Wakatipu and is just at a 15 to 20 minutes drive from the international airport. The area has plenty of activities to do from your hotel, like bungee jumping, great hikes, water sports and more. It also has many stores and restaurants so you will have plenty of resources to shop and dine from. 
However, Queenstown can be noisy, especially in the evenings. In some hotels this noise can even penetrate the hotel room. The parking structure in Queenstown is also limited or very expensive. The traffic can be overwhelming too so renting a car in New Zealand may not be the ideal solution for you.
    2. Fernhill 
The Fernhill area is an outer suburb of Queenstown and at about a 15 minute walk from the city centre. It sits at the top of a steep hill, so the views are quite breathtaking. You also get regular bus service between the town and Fernhill, so you would not have to climb a steep hill to reach your hotels in Queenstown. You can also visit the Fernhill Bike Park, which is highly recommended and very popular with locals.
However, remember that missing the bus or staying till midnight might make your journey to your accommodation pricey, because you will have to get a taxi. You also get limited restaurants in Fernhill, so you will have to drive to Queenstown for most meals.
    3. Arrowpoint 
If you're visiting Queenstown in winter, Arthurs Point is a great place to relax thanks to its proximity to Coronet Peak ski resort. You can go skiing in the winters with your family too. 
However, there are no shops here; you will have to drive into Queenstown to find the nearest supermarket. 
    4. Frankton 
Frankton is home to the international airport and most supermarkets and stores which is ideal if you're looking to do some shopping. Frankton has every type of store you can imagine. This is where most Queenstown residents spend their time and there are plenty of great restaurants between the Queenstown Central and The Remarkables retail parks.The area is also home to the Frankton Walking Track, a lakeside route that leads to Queenstown via an easy, flat path and is also popular with cyclists. Hiking the trail is expected to take just over 2 hours each so don't forget to grab a snack along the way at the wonderful Boatshed Café. You will need to look for hotels in Queenstown towards the lake and away from the airport and shopping centres if you do not want to see cemented buildings and industrial architecture all the time. 
Top Picks for Hotels in Queenstown 
Nugget Point Hotel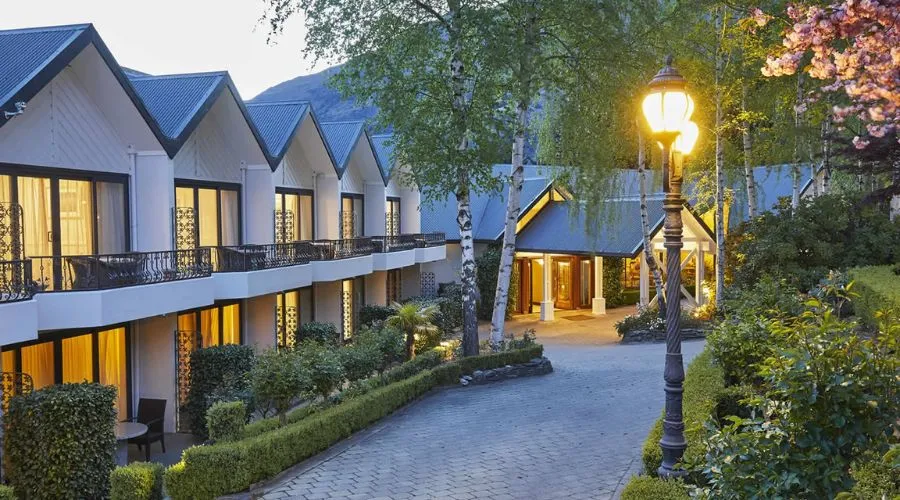 This 4-star hotel is located in the beautiful mountains of Arthur Point near the Arrowtown Chinese Settlement. You can visit the Onsen Hot Pools Spa and Coronet Peak Ski Resort for some adrenaline filled adventures. The Millbrook Resort Golf Course is nearby, where you can go for some fun golfing sessions. The hotel has tons of sports activities like racquetball or squash in addition to body wraps, sports massages and body treatments. The hotel also has an indoor pool with comfortable lounge chairs and an a la carte breakfast facility.
---
   2. Sudima Queenstown Five Mile
This grand and luxurious hotel has a grand total of 120 rooms all of which have great amenities like air conditioning and Wi-Fi and safes. The hotel also offers body treatments, body scrubs, or manicures and pedicures at their on-site spa, amazing food at the on-site restaurant 'Podium' that offers you quality modern European cuisine or the surcharge buffet breakfast. The hotel can also incorporate business needs with its grand 2 meeting rooms. It is located at great proximity from the Frankton Beach and Lake Wakatipu. You can also visit the Queenstown Arts Center and Toi o Tahuna Art Gallery.
---
   3. QT Queenstown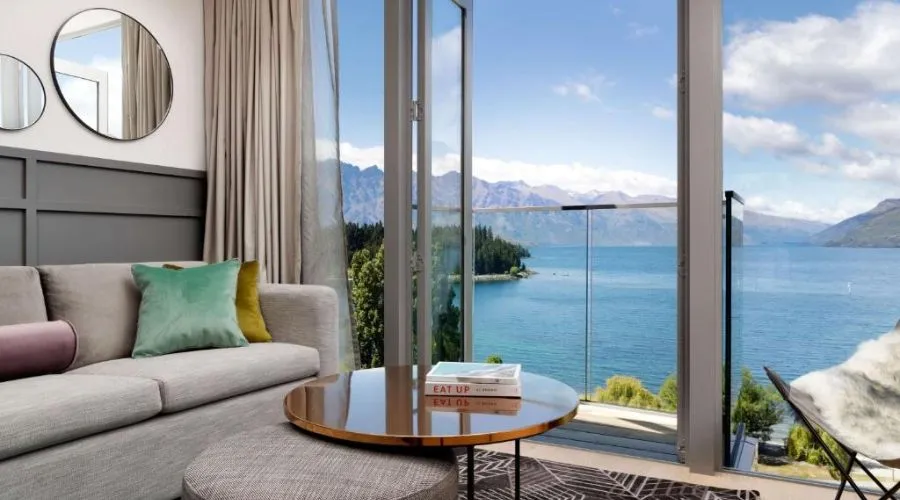 This beautiful hotel is in close proximity to the amazing shopping sites like Steamer Wharf and the Queenstown Creative Arts and Crafts Market. You can also visit the Birdlife Park if you are in the mood for some birdwatching. The hotel also has a beautiful garden for some mellow moments and relaxation. It also includes an outdoor pool and a sauna- plus a surcharge babysitting service so you and your partner can enjoy some moments alone. It has a total of 69 rooms that have high-quality bedding and air conditioning as well as soundproof walls. You can also enjoy their coffee makers and the perks of daily housekeeping.
---
   4. Kamana Lakehouse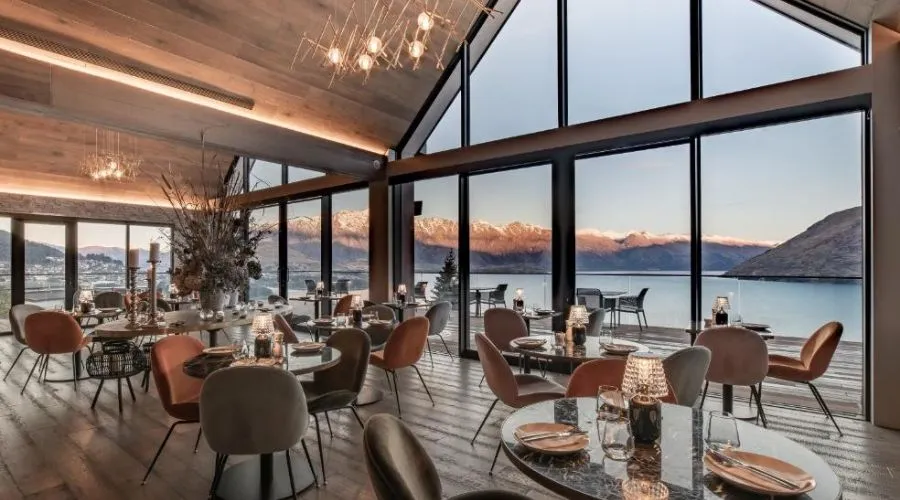 This Lakehouse hotel is nestled in the Queenstown outskirts nestled in the mountains. It is located very close to the beautiful Queenstown Gardens which is a popular attraction of the area. You can also enjoy the nearby TSS Earnslaw Steamship and the cable cars in the area. The nearby mountains also offer a great spot for cross-country skiing, snowmobiling, snowshoeing, and downhill skiing. You also have a few restaurants that are just a 5 minutes drive from the hotel.
---
Conclusion 
Expedia can be a great place to look for the best hotels in Queenstown because of its inclusive listings and great deals. The booking process is quite seamless too and you can book yourself a nice play to stay at some of the best hotels in Queenstown. Check out Xprrtupdates top picks for the best hotels in Queenstown and head over to Expedia today! 
FAQs