Plant-based proteins are highly valued when it comes to a healthy diet. Your one-stop shop for wellbeing, iHerb, has a great selection of plant-based protein options. These choices improve the environment and your health at the same time. Join us as we examine the 5 best plant-based protein options that iHerb has to offer. These protein sources will assist you whether you're a seasoned vegan or simply wish to make more environmentally friendly food choices. 
What to look for when buying plant-based protein?
Protein source: Look into the protein's source first. Plant-based sources that are commonly used include hemp, rice, soy, and peas. The nutritional value and amino acid profile provided by each source varies slightly. Thus, consider what suits your nutritional requirements and interests the best.

Ingredient list: Carefully review the ingredient list. Choose products with little additives. Steer clear of goods that contain extraneous fillers, sweeteners, or artificial flavours. 

Amino acid profile: Seek proteins derived from plants that have an even distribution of amino acids. There are a variety of plant-based proteins that can supply the entire range of required amino acids.

Certifications: Depending on your dietary requirements, look for certifications such as organic, non-GMO, or vegan. These certificates guarantee that the product complies with particular ethical and quality requirements.

Taste and flavour: Take into account the various flavours. Select a plant-based protein that suits your palate from the variety of flavours available. This can add to the enjoyment of your dishes and protein shakes.

Dietary objectives: Finally, consider your nutritional objectives. Choose a plant-based protein that fits your nutritional goals, whether you're trying to gain muscle, boost your protein intake, or keep your diet balanced.
5 Plant-based proteins on iHerb that will help you smash your fitness goals
1. Garden of Life, raw organic protein, plant-based, unflavored, 19.75 oz (560 g)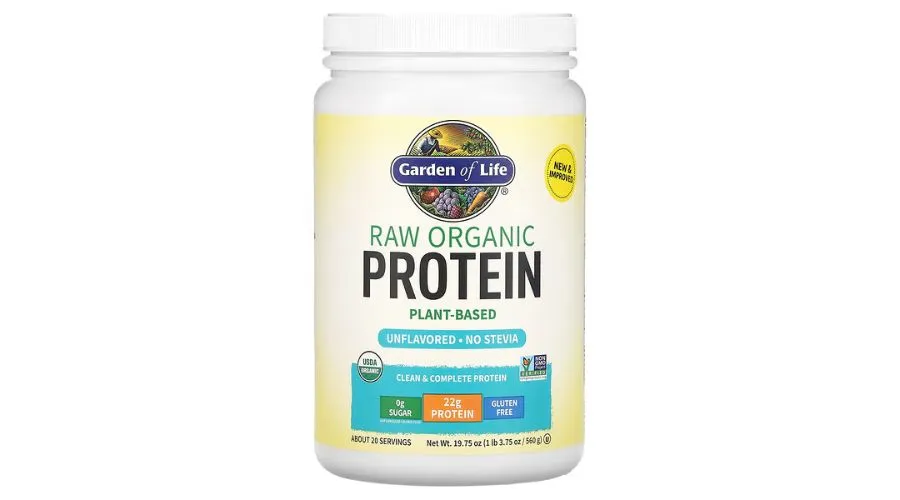 Garden of Life offers 19.75 oz (560 g) of 100% plant-based protein in their unflavoured raw organic protein. This adaptable protein powder is ideal for people who enjoy trying out new flavours and desire a pure taste. It easily fits into your daily schedule and provides flexibility for your protein requirements, whether it's in yoghurt, smoothies, or different dishes. By using Garden of Life, you can explore an infinite array of culinary options rather than just obtaining a source of protein.
---
2. California Gold Nutrition, plant protein, cinnamon bun, 907 g (2 lb) bag
California Gold Nutrition offers a delightful cinnamon bun-flavoured plant protein in a convenient 2 lb bag (907 g). Perfect for cinnamon enthusiasts, each scoop combines great taste with a substantial dose of plant-based protein, making it an ideal addition to shakes, recipes, or culinary creations where a hint of cinnamon adds a delightful twist. California Gold Nutrition doesn't just provide protein; it delivers a flavourful journey with each serving.
---
3. Orgain, organic protein powder, plant-based, creamy chocolate fudge, 2.03 lbs (920 g)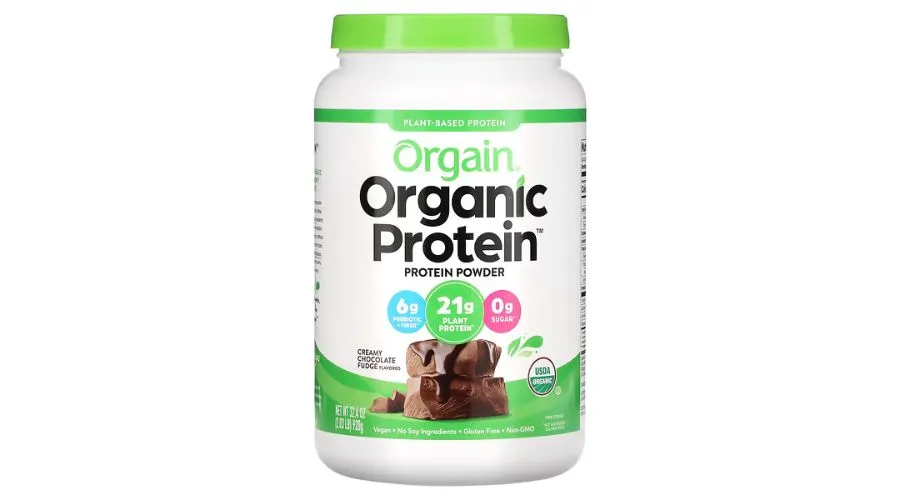 A 2.03 lb (920 g) container of Orgain's creamy chocolate fudge organic protein powder is offered. Chocolate enthusiasts will adore this delicious treat, which guarantees you'll get the full flavour and nutritious advantages. This vegan powder is a reliable partner for creating nutritious snacks or a post-workout shake. Beyond just providing protein, Orgain infuses your health-conscious decisions with a hint of decadence.
---
4. Purely Inspired, organic protein, plant-based nutrition shake, decadent chocolate, 1.5 lbs (680 g)
One choice for the plant-based nutrition shake from Purely Inspired is the 1.5-pound (680 g) decadent chocolate. It boosts your nutrition and quells your chocolate cravings. Perfect for midday energy boosts or post-workout recuperation, this plant-based protein shake is a simple and delicious way to fuel your body. Purely Inspired delivers more than just protein; it's a delicious chocolate experience.
---
5. Sun Warrior, Classic plus protein, plant-based, vanilla, 1.65 lb (750 g)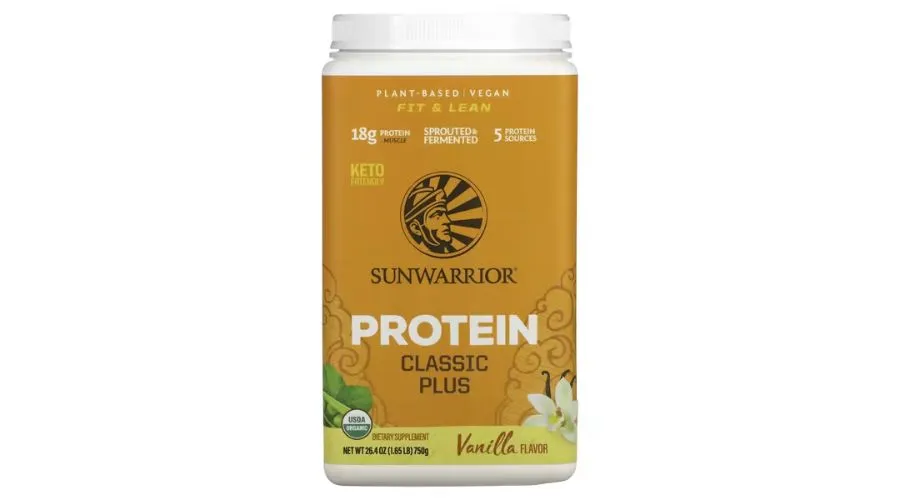 A 1.65 lb (750 g) container of vanilla-flavoured Sun Warrior's classic plus protein is available. For people who appreciate the classic flavour of vanilla, this is ideal. This plant-based protein powder gives your regular smoothies, dishes, and drinks a delicious taste while also providing vital nutrients to keep you feeling energised all day. It's a dependable and adaptable option for your regular diet. Sun Warrior adds the timeless appeal of vanilla to your everyday routine in addition to providing protein.
---
Conclusion
For those looking to improve their diet, plant-based protein options are delicious and nutritious. You'll find a protein that suits your taste, whether you want flavourful varieties like chocolate and cinnamon or plain protein. These powders are excellent for more than simply protein; they can also be used to prepare delectable meals and maintain good health. Not only can you acquire protein from brands like Garden of Life, California Gold Nutrition, Orgain, Purely Inspired, and Sun Warrior, available on iHerb, but you can also enhance your health in a tasty way. So, take advantage of these plant-based protein sources to improve your health and enjoy more delicious meals. Visit Xprrtupdates for more such health updates.
FAQs