Rock salt, sometimes referred to as halite, is a naturally occurring mineral that is predominantly sodium chloride (NaCl) based. It frequently occurs in underground salt deposits and saltwater bodies like salt lakes and seas, where it typically forms huge, crystalline structures. Rock salt can be used in de-icing the road, seasoning food, and other industrial activities.
The naturally occurring mineral known as rock salt, which is mostly made up of sodium chloride, has a wide range of useful uses. Its most famous application is de-icing sidewalks, driveways, and roads during the winter, as well as in several industrial activities. By successfully lowering the freezing point of water, it avoids the development of dangerous ice patches. This adaptable mineral is also sometimes used as a flavoring in food preparation. Notably, Travis Perkins, the UK's largest supplier of building materials to the building and construction industry, offers rock salt, making it easily accessible for a wide range of needs, particularly in regions prone to cold weather and icy conditions.
What Are Some of the Best Rock Salt Products?
1. Rock Salt White 20kg Trade Bag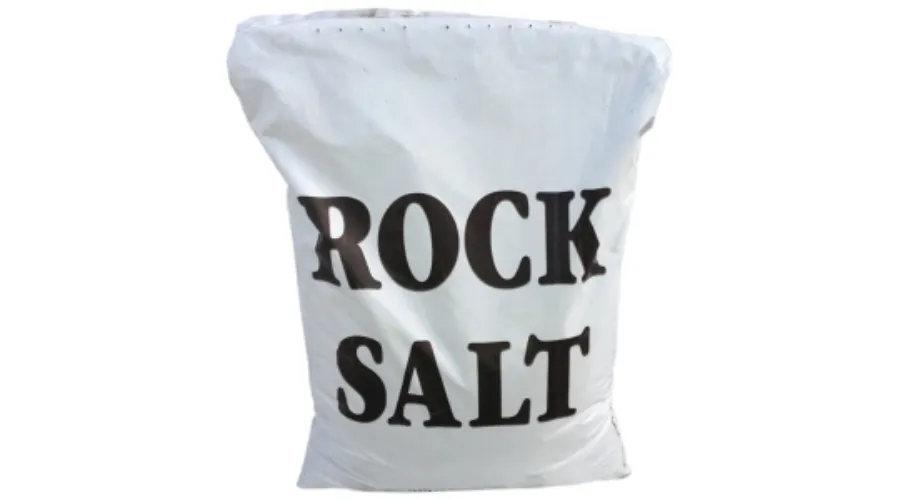 The Rock Salt White 20kg Trade Bag is a functional and necessary item for a variety of uses. It quickly removes snow and ice, improving wintertime road and walkway safety. It also works well as a weed killer and can be combined with sand to increase vehicle traction in slick situations. The 20kg of rock salt in this bag may or may not be the exact weight because of moisture content. If you are ever asking if there are environmental concerns associated with using rock salt. Note that it is made locally, is safe to use, and doesn't include any potentially harmful substances. However, it is important to know that this product is not appropriate for water softeners.
2. Rock Salt Traditional Colour Bulk Bag
A dependable and essential tool for efficient winter maintenance, the Rock Salt Traditional Colour Bulk Bag provides a flexible option to keep sidewalks, driveways, and roadways free of ice and snow. The fact that the weight of the bag can fluctuate based on moisture content further emphasizes how adaptable it is by ensuring that it can be utilized in some scenarios and weather conditions. The local sourcing of this product will also appeal to the ecologically concerned consumer, helping to promote sustainability and reduce the environmental effects of transportation. Individuals and organizations can help make winter conditions safer by selecting this bulk bag for their de-icing needs.
3. Rock Salt Traditional Colour 20kg Trade Bag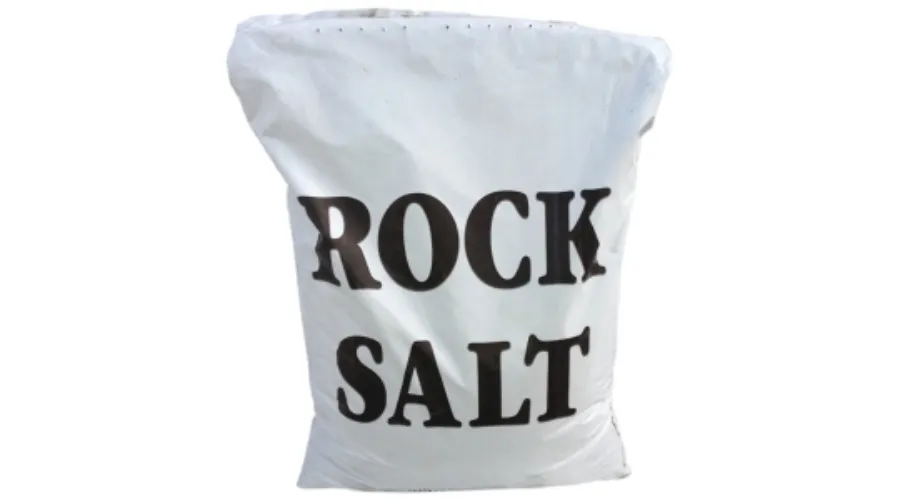 The Rock Salt Traditional Colour 20kg Trade Bag is a multipurpose item that is crucial for many uses. It quickly maintains walkways, driveways, and roads during the winter by clearing snow and ice with efficiency. It also works well as a weed killer and can be combined with sand to improve the grip of moving vehicles on slick areas. Although the moisture content of the bag may affect its actual weight, it is a locally sourced item, encouraging sustainability and lowering environmental impact. Importantly, the absence of any potentially harmful components makes this rock salt safe to use. Please be aware that it is not appropriate for water softeners.
All You Need To Know About Rock Salt:
Origin Of Rock Salt:
Halite, commonly known as rock salt, is typically made from salt beds and natural subterranean salt deposits that have been there for millions of years. These deposits, which are frequently discovered underneath the surface of the Earth, are the product of long-ago seas or lakes that evaporate and leave behind concentrated salt minerals. These salt deposits were converted into solid rock salt formations during geological periods by pressure, heat, and geological time.
The most popular technique for removing rock salt from these deep reserves is mining. The salt deposits are taken out by miners through shafts or tunnels, and the salt is subsequently extracted using a variety of mechanical techniques, including drilling, blasting, and mechanical conveyors. Following extraction, the salt is crushed, sorted, and transformed into numerous forms for uses such as de-icing, food seasoning, industrial processes, and more. It's crucial to remember that rock salt can also be obtained from salt flats and salt pans, where saltwater evaporates and leaves behind deposits of crystallized salt on the surface. However, underground mines are the main source of rock salt for commercial and industrial uses.
Rock Salt & Cooking:
Some chefs and culinary enthusiasts may experiment with rock salt for certain applications, but it is not the preferred or most widely used salt in the kitchen. Even though rock salt shares many chemical properties with table salt, it frequently contains other minerals and impurities that can compromise the taste and safety of food. Due to its rougher texture and impurities compared to table salt, which is specifically refined for use in food, rock salt is not frequently used in cooking. Rock salt is frequently extracted from subsurface sources, which lessens its suitability for use in cooking.
Contrarily, table salt is purified to remove impurities, guaranteeing a constant texture and a crisp, salty flavor that improves the flavor of foods. It is the favored option for seasoning and cooking since it dissolves more easily and consistently in liquids. Therefore, it is recommended to use table salt or other food-grade salts that adhere to certain quality and safety criteria when using salt for culinary reasons.
De-Icing Roads:
Melting Action: Rock salt lowers the freezing point of water when it comes into contact with ice or snow on the road. As a result, the ice starts to melt, and a brine is created from the saltwater mixture. This brine may remain liquid even in below-freezing temperatures because it has a lower freezing point than water. The relationship between the ice and the road surface is broken as the brine spreads and permeates the snow or ice, making it simpler to plow or sweep away. This procedure efficiently cleans the road and enhances vehicle traction.
Preventive Measures: Before snowfall or ice conditions are anticipated, rock salt can also be used as a preventative precaution. It creates a shielding barrier when sprayed on completely dry road surfaces beforehand, which can stop snow and ice from sticking to the surface. This preventative technique helps preserve safer driving conditions during winter weather events and makes it simpler to remove snow and ice once precipitation starts. However, it's crucial to use rock salt sparingly because too much salt application can harm the environment and corrode infrastructure and automobiles. To maximize rock salt's de-icing efficiency while minimizing its drawbacks, proper storage and application methods are essential.
Environmental Concerns:
Water Contamination: Rock salt runoff onto nearby bodies of water is one of the main environmental issues. Salt is transported into lakes, rivers, and streams as snow and ice melt, raising the amounts of sodium and chloride. This can damage aquatic ecosystems by upsetting the balance of aquatic life that is sensitive to salt and lowering the quality of the water. Increased salt levels can also reduce the suitability of water supplies for irrigation, drinking, and industrial usage.
Soil and Vegetation Damage: Rock salt overuse can cause soil deterioration and lower soil quality. High salt concentrations can prevent plant growth, causing damage to the vegetation beside roadsides. This may disturb urban vegetation and roadside ecosystems, which may have an impact on biodiversity and the environment's general health. Further affecting the vegetation and ecosystems in the area is the possibility that the salt will seep into the soil.
Conclusion
Rock salt offers a flexible and efficient solution for a variety of uses, including de-icing walkways and roads throughout the winter. It's crucial to use rock salt sparingly and look into alternate de-icing techniques to strike a balance between the requirement for safety and environmental responsibility. Travis Perkins is a trusted provider for individuals looking for high-quality rock salt who are dedicated to minimizing environmental harm. They encourage appropriate usage and sustainability in winter maintenance practices. For more information on rock salt, visit Xprrtupdates.
FAQs