They started off as a simple solution for jotting down reminders and thoughts on the go. But decades later, sticky notes have proven their staying power, sticking around in offices and homes despite the digital revolution. These handy paper squares, with their ability to temporarily post notes almost anywhere, were first invented in the 1970s and soon became an indispensable office supply. Over 50 years later, are these analogue accessories still relevant in our high-tech world of laptops, smartphones and smart assistants? While apps and digital interfaces aim to digitise every aspect of the organisation, the versatile, tangible sticky note has retained its popularity due to its simplicity and flexibility.
Cute collections of Sticky Notes by WHSmith
1. WHSmith Bumper Sticky Note Set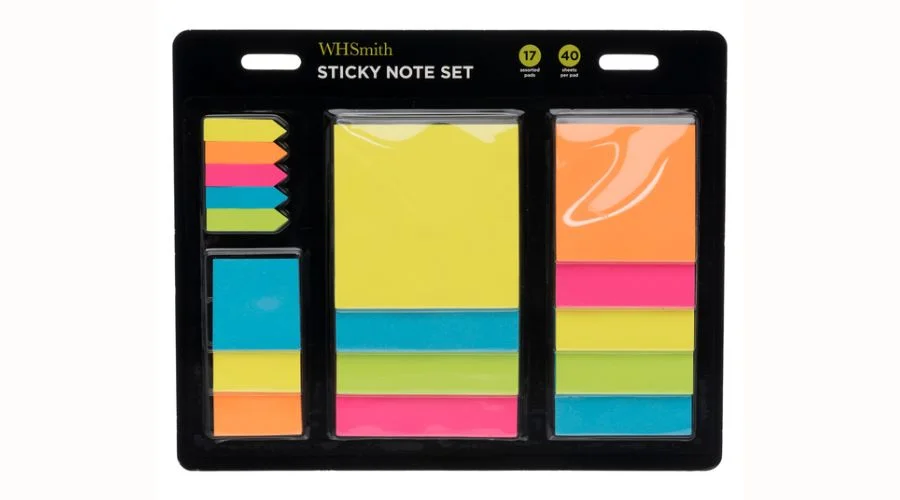 Conquer clutter with organisation: the WHSmith Bumper Sticky Note Set is the ultimate organisational arsenal, providing a megamix of sticky shapes and sizes to tackle any to-do list. With an array of neon tabs, flags, and multi-coloured squares, you'll stay stuck on a task and productive. No matter the project, this versatile set offers the perfect note shape to stick with jobs until they're done.
---
2. Post-it Notes Neon Cube Pad
Liven up your space with style: Why use boring notes when you can brighten up your workspace with the Post-It Notes Neon Cube Pad? This groovy pad packs 100 lively lime green notes that will turn any surface into a vibrant beacon of cheer. The bold colourful notes are guaranteed to get you noticed while adding a fun pop of colour to track reminders and ideas.
---
3. Post-it Twin Pack Canary Yellow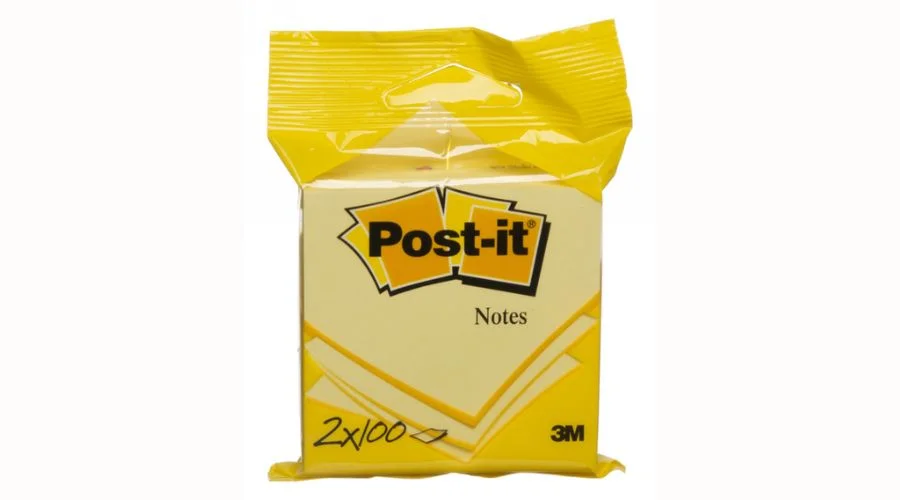 Trust a classic for timeless helpfulness: You can't go wrong with the original that started it all – the classic Post-it Twin Pack Canary Yellow. These 200 iconic square sticky notes sparked a revolution in the analogue organisation. Decades later, the original sticky note remains dependably helpful for capturing thoughts on the go.
---
4. Post-it Index Sticky Notes (Pack of 100)
Get organised with indexing: File papers in a flash and conquer the clutter with the Post-it Index Sticky Notes. 100 handy index tabs make documents easy to identify and organise so you stay on top of projects. Affix these colourful labels along reports, folders, binders and bulletin boards to keep everything neatly arranged.
---
5. WHSmith Neon Sticky Notes Set
Take Notes with pizzazz and fun: Inject some flair into your tasks with the WHSmith Neon Sticky Notes Set, packing 12 pads of bright shapes to add pizzazz to notes. You'll be stuck on the eye-catching highlighters in vibrant hues that make reminders fun. Use the mix of squares, tabs, and page markers to highlight priority tasks in style.
---
6. Post-it 10 Slim Sticky Notes
Powerful stickies in a portable size: Post-it 10 Slim Sticky Notes offer maximum sticky power in a compact form. Ten skinny pads slip neatly into pockets, purses, and planners, ready to capture thoughts on the go. The slim notes stay put without taking up much space – perfect for sticking in a book or journal.
---
7. Post It Notes Ruled Neptune Blue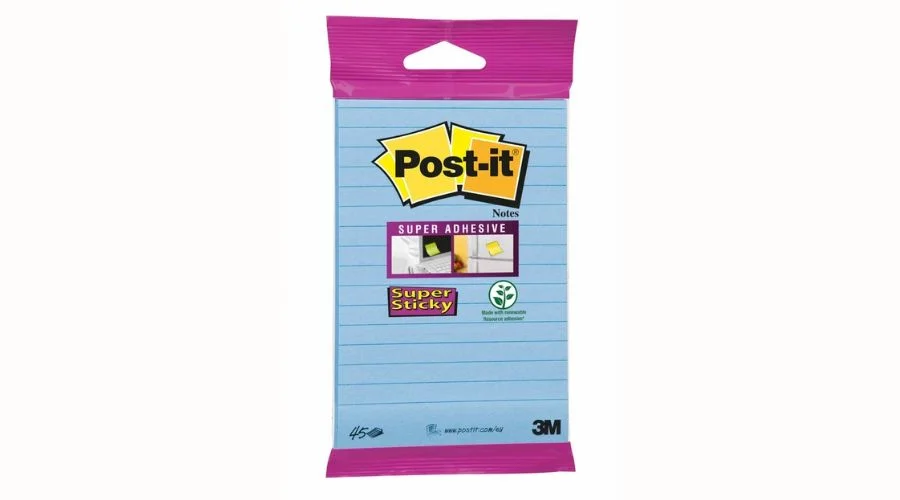 Keep It straight with orderly rules: Tidy handwriting and neat lists are a cinch with the Post-It Notes Ruled Neptune Blue. Faint blue lines on each sheet help keep your thoughts stuck in orderly straight lines. No more crooked scribbling with these structured notes to tame to-do lists and meeting notes.
---
8. WHSmith Meadow Sticky Note Set
Spark creativity with scenic notes: Escape to the countryside right on your desktop with the WHSmith Meadow Sticky Note Set. Twelve floral and nature-themed pads feature lush landscapes that will help your thoughts roam freely. The calming rural scenes provide a mini-meditative moment every time you jot down a note.
---
9. WHSmith Fun Sticky Note Set (Pack of 12)
Lift your mood with whimsical critters: Lighten your workload and lift your mood with the WHSmith Fun Sticky Note Set. Twelve pads featuring upbeat illustrations of cute cats, dogs, owls and more provide a whimsical pick-me-up. The playful animal themes on these sticky notes make work more enjoyable.
---
10. Post-it Strong Index Coloured Tips Red/Green/Blue (Pack of 66) 686L-GBR
Keep papers perfectly organised: Documents will stay methodically arranged with the Post-it Strong Index Coloured Tips. The red, green and blue sticky tabs make different files easy to identify and spot. Use these durable and colourful page markers to keep papers and projects perfectly stuck where they belong.
---
Conclusion
In today's digital age, laptops, tablets and smartphones have made taking and organising notes easier than ever. Despite this, the analogue sticky note has prevailed as a quick and handy way to jot thoughts down. While apps may offer specialised features, they lack the universal, freeform utility of a humble paper sticky. The ability to quickly grab a note, scribble on it, and stick it anywhere still confers certain advantages. Sticky notes continue to hold an appeal thanks to their simplicity, ease of use, and tangible, flexible nature. So even as digital notes proliferate, don't be surprised if those bright little sticky papers remain ubiquitous in offices and homes. Sometimes, a simple paper solution gets the job done when more high-tech options fall short. When you need to capture a quick thought, sticky notes still have a sticking power that endures. For more information visit Xprrtupdates.
FAQs