As parents or caregivers, one of our primary responsibilities is to monitor the health of our children. A reliable thermometer for kids is an essential tool in every home's healthcare kit, especially when you have kids. However, selecting the most suitable type of thermometer for different age groups of children can be a daunting task. 
When it comes to finding the right thermometer for kids, Babymarkt stands as a trusted online marketplace. Babymarkt offers a wide selection of thermometers designed for children, ensuring accuracy, safety, and ease of use. Shopping with Babymarkt provides the convenience of online browsing, access to customer reviews for informed decision-making, and the assurance of quality and customer satisfaction.
Understanding the Needs of Different Age Groups
Children of different age groups may require different types of thermometers due to variations in their ability to cooperate and their susceptibility to discomfort. Here's how you can select the most suitable thermometer for various age groups:
1. Infants (0-2 Years)
For infants, accuracy and safety are paramount. Consider the following options:
Rectal Thermometer: This is the most accurate method for infants, although it can be uncomfortable for both the baby and the caregiver. Ensure it's designed specifically for rectal use.
Temporal Artery Thermometer: These are non-invasive and provide fast readings, making them suitable for fussy infants.
2. Toddlers and Preschoolers (2-5 Years):
At this stage, kids may become more cooperative but may still find certain thermometers uncomfortable. Options include:
Ear Thermometer (Tympanic): They are relatively quick and offer a good compromise between accuracy and comfort for children in this age range.
Temporal Artery Thermometer: These remain a convenient choice due to their non-invasive nature and speed.
3. School-Age Children (5+ Years):
Older children can typically cooperate better and tolerate various thermometer types. Choices include:
Oral Thermometer: These are more suitable as children grow and can hold a thermometer under their tongue. Make sure it's a paediatric oral thermometer for accuracy.
Ear Thermometer: Ear thermometers remain practical and are often preferred by both parents and older children.
Temporal Artery Thermometer: While suitable for all age groups, they are particularly convenient for older children.
Are there specific thermometers designed for oral, ear, forehead, or rectal temperature readings in children?
Thermometers come in various types, each with its advantages and best-use scenarios:
Oral Thermometer: Placed under the tongue, these thermometers are suitable for older children who can follow instructions.

Ear Thermometer (Tympanic): Ear thermometers are quick and generally comfortable for children above two years of age.

Forehead (Temporal Artery) Thermometer: These non-invasive thermometers are suitable for all age groups and provide fast readings.

Rectal Thermometer: This method is the most accurate, particularly for infants, but may not be comfortable for older children.
Best Thermometer for Kids by Babymarkt
Badabulle Digital Clinical Thermometer

Badabulle Digital Clinical Thermometer | xprrtupdates
This product offers fast temperature measurement in just 10 seconds, with high precision to 0.1°C within the range of 32 to 42.9°C. It features a soft and flexible measuring tip, convenient storage of the last measurement, and an acoustic signal to indicate the measurement's completion or a fever reading at 37.8°C. Suitable for use from birth, it comes with a practical carrying bag and can be used rectally, under the armpit, or orally, providing versatility and accuracy in temperature monitoring.
---
    2. Reer Digital Clinical Thermometer Frog
This thermometer for kids offers quick and dependable temperature measurement with its flexible tip, reducing the risk of injury. It features a fever alarm that activates at 37.5°C, ensuring accurate readings, along with an easy-to-read display and an audible beep to signal the end of the measurement. This thermometer for kids also includes a convenient memory function to store the last measured value and boasts a playful childish design. Its measuring time is approximately 30 seconds, making it practical and child-friendly for temperature monitoring.
---
    3. Miniland Thermometer Set, Candy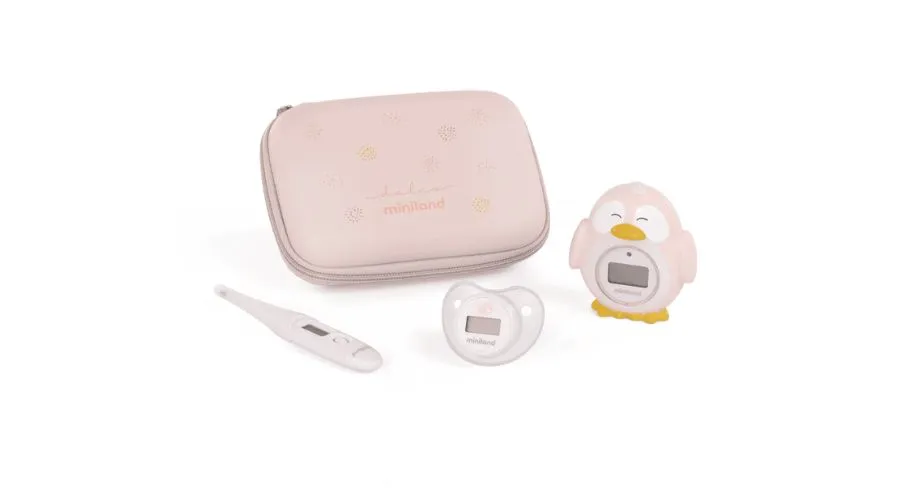 This practical case of thermometer for kids includes three different thermometers designed for various purposes. It features a flexible-tip body thermometer suitable for oral, axillary, or rectal use, with an audible warning for high fever (above 37.8ºC). Additionally, there's a pacifier thermometer for comfortable and washable oral temperature measurement, and a cute penguin-shaped bath thermometer that monitors water and room temperature while providing entertainment for children. The case is waterproof, ensuring protection and easy cleaning, with rubber bands inside to secure each thermometer in place, promoting organisation and durability.
---
   4. Miniland Thermosense Contact Thermometer for Ears and Forehead
This product offers rapid temperature measurement with high accuracy, featuring a display for time and date. It conveniently stores the last nine temperature readings and includes an automatic shut-off function for power-saving. This  thermometer for kids provides an optical fever warning display and alerts for low battery levels, with batteries included for immediate use. It also allows for manual temperature recording on the eMyBaby platform, making it a versatile and user-friendly healthcare tool.
---
   5. Reer Infrared Clinical Thermometer Color SoftTemp 3in1 Contactless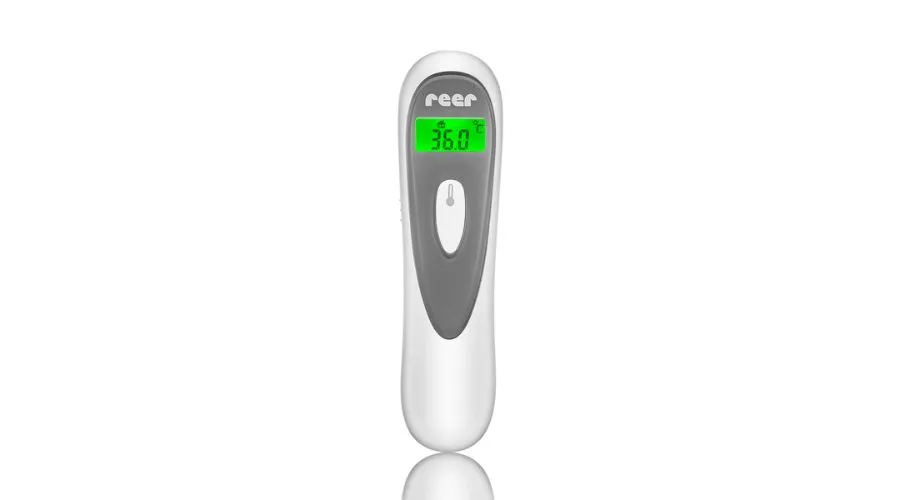 This device is white/grey in colour and serves as a versatile thermometer, capable of measuring body surfaces and room temperature. It offers easy nighttime measurement with its illuminated display and can store up to 25 previous readings in its memory. This thermometer for kids provides an optional temperature alarm system with colour-coded indicators (green for <37.5°C, orange for 37.5-37.9°C, and red for >37.9°C) and an acoustic fever alarm for temperatures exceeding 37.9°C, which can be switched off as needed. It includes an automatic shut-off function, ensuring efficient power usage, and boasts a swift measuring time of approximately 1 second. The measuring range extends from 32.0 °C to 42.9 °C for body temperature and 0°C to 99.9°C for ambient and surface temperature, making it a versatile and user-friendly healthcare tool.
---
What are the advantages of using a digital thermometer over traditional mercury thermometers for kids?
When it comes to choosing a thermometer for kids, digital thermometers have several advantages over traditional mercury thermometers:
Accuracy: Digital thermometers provide precise temperature readings quickly, ensuring accurate assessments of a child's health.

Safety: Unlike mercury thermometers that contain toxic substances, digital thermometers are safe for kids and the environment.

Easy Reading: Digital thermometers display temperature readings clearly, eliminating the risk of misreading the measurement.

Quick Results: Digital thermometers offer rapid temperature readings, reducing discomfort for the child during measurement.
How can I ensure that the thermometer is safe and hygienic for repeated use with children?
To ensure that the thermometer for kids is safe and hygienic for repeated use with children, consider the following tips:
Cleanliness: Regularly clean the thermometer for kids according to the manufacturer's instructions to prevent the buildup of bacteria and germs.

Use Disposable Covers: If using an ear or temporal artery thermometer, consider using disposable probe covers for each use to maintain hygiene.

Storage: Store the

thermometer for kids

in a clean and dry place, and ensure it has a protective case or cover to prevent damage.

Battery Check: For digital thermometers, periodically check the battery to ensure accurate readings.
Fast and Non-Invasive Thermometers: Are there thermometers with fast and non-invasive temperature measurement methods for kids?
When dealing with children, especially infants and toddlers, fast and non-invasive temperature measurement methods are often preferred. Temporal artery thermometers, in particular, offer the following advantages:
Speed: They provide quick readings, which is essential for keeping an impatient child still during measurement.

Non-Invasive: These thermometers do not require contact with mucous membranes, making them comfortable and reducing the risk of cross-contamination.

Accuracy: Temporal artery thermometers are known for their accuracy, providing reliable temperature readings.

Ease of Use: They are user-friendly, requiring a simple swipe across the forehead for measurement.
Conclusion
Selecting the most suitable thermometer for children of different age groups involves considering their comfort, cooperation, and the thermometer's accuracy and ease of use. Digital thermometers, especially temporal artery thermometers, are preferred for their advantages in accuracy and convenience. Remember to maintain hygiene and follow safety guidelines for repeated use. Trust Babymarkt as your destination for reliable thermometers, and ensure your child's health is in safe hands.
For more information, visit our website Xprrtupdates.
FAQs