Anniversaries are milestones on the journey of love, and they deserve to be celebrated with thoughtful and meaningful gifts. When it comes to marking the fifth wedding anniversary, wood is the traditional material, symbolizing the strength and durability of a marriage. Wood anniversary gifts are not only beautiful and timeless but also carry a deeper symbolism that reflects the growth and resilience of a relationship. 
In this blog curated by Xprrtupdates, we will explore the world of wood anniversary gifts, from traditional choices to creative and personalized ideas. Whether you're celebrating your fifth anniversary or searching for the perfect gift for a couple dear to your heart, let's embark on a journey to discover the charm and significance of wooden treasures.
Meaning behind wood anniversary gifts 
Before we dive into gift ideas, it's important to understand the symbolism of wood in the context of wood anniversaries. A wood anniversary, often referred to as the "wooden anniversary," is a celebration of a specific number of years since a couple's wedding day. It is typically associated with the fifth year of marriage. Wood represents the solid foundation and enduring strength of a relationship. Just as trees grow deep roots and sturdy trunks over time, so too does love deepen and strengthen with each passing year.
Traditional Wood Anniversary Gifts
1. Picture Frame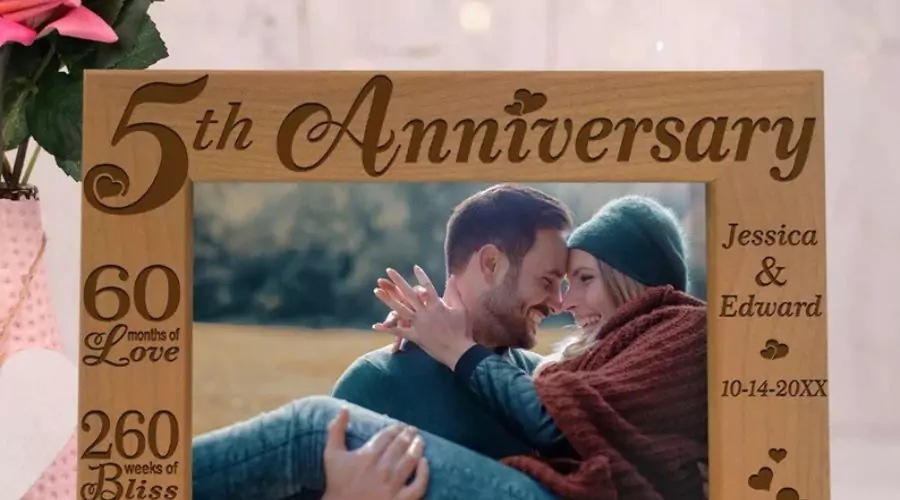 Celebrate the essence of timeless love with one of the perfect traditional wood anniversary gifts: a top-quality natural wood picture frame. Crafted with precision, this exquisite frame features curved, beveled edges that add a touch of elegance to your cherished memories. Complete with a glass front to protect your precious photographs, it ensures that your captured moments remain as vibrant as the day they were taken. Versatile and thoughtful, this frame comes with a backstand easel, allowing you to proudly display it on tables, mantels, or shelves. It also includes wall-hanging clips for convenient wall mounting, making it a beautiful addition to your home decor.
---
2. Wood Pendant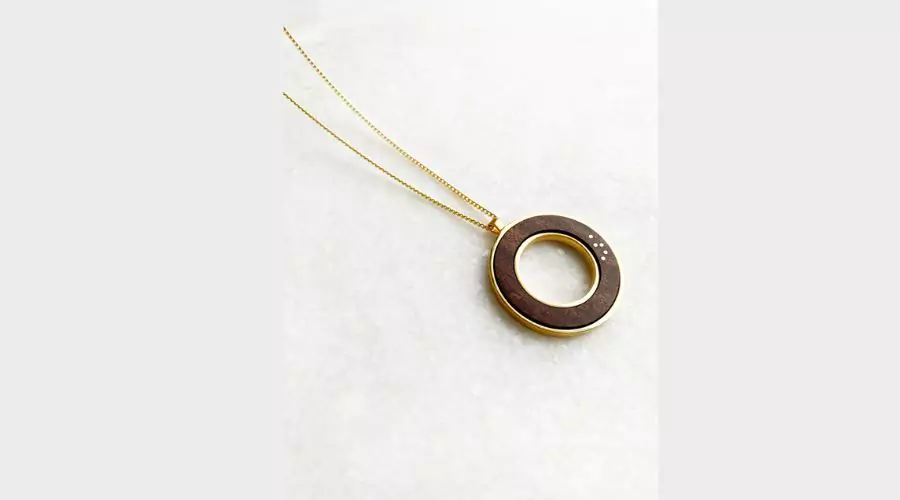 A wood pendant is one of the perfect traditional wood anniversary gifts. Crafted from exquisite Pau Ferro wood, this pendant features five delicate gold inlay dots, adding a touch of elegance and symbolism to the piece. The pendant is suspended from a 14K gold-plated brass metal chain, ensuring both durability and a timeless aesthetic. The wood itself is carefully sanded to a silky-smooth finish, inviting touch and connection, and it's further enhanced with a natural oil finish, preserving its natural beauty. This wood pendant not only celebrates the wood anniversary but also represents the lasting love and growth of a partnership, making it a cherished and meaningful token of affection for years to come.
---
3. Wooden Couple Statue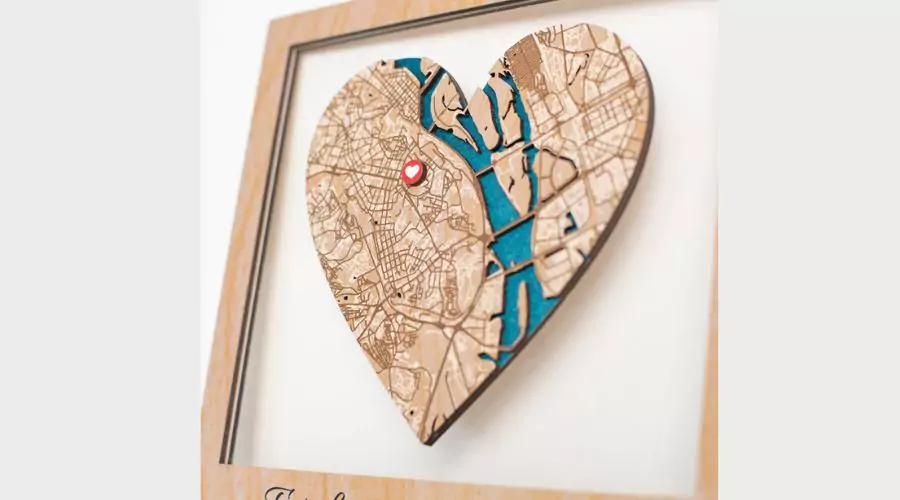 This Wooden Couple Statue is a perfect traditional wood anniversary gift, capturing the essence of lasting love and unity. This thoroughly carved statue depicts a man and woman in an intimate and tender dance, their foreheads touching in a moment of intense connection. Crafted from natural wood, the statue exudes warmth and authenticity, symbolizing the strength and harmony of a loving partnership. Each delicate detail and graceful curve in the wood tells a story of shared moments and shared dreams, making it a beautiful and sentimental token of the enduring bond that grows stronger with each passing year.
---
Modern wood anniversary gifts
1. Wedding Song Lyrics Engraved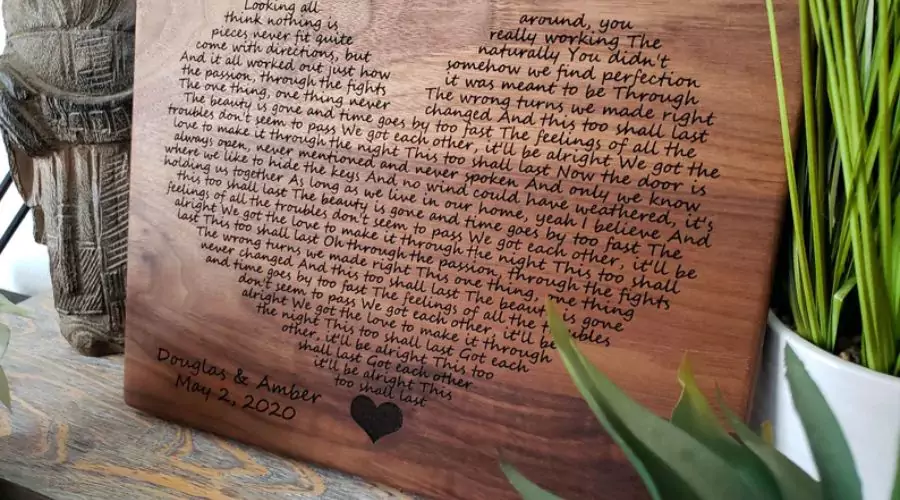 This Wedding Song Lyrics Engraved is one of the perfect modern customized wood anniversary gifts. This gift offers a truly special way to commemorate your love story with a timeless touch. Crafted from hardwood and available in Walnut, Maple, or Cherry, these engraved pieces bear the lyrics of your cherished wedding song or other meaningful text. Each piece undergoes a deep triple sanding, followed by a thorough cleaning and the application of protective oil. This personalized and carefully crafted gift shows the enduring beauty of your love.
---
2. Engraved Wood Watch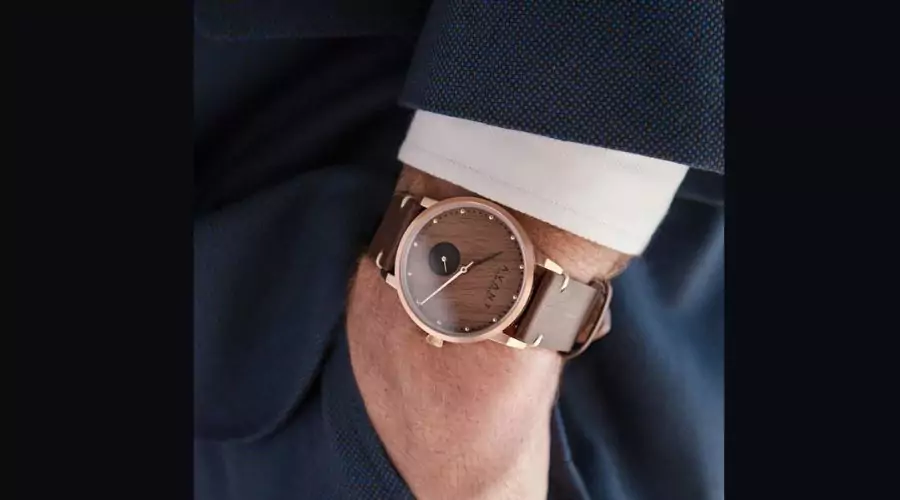 The Engraved Wood Watch is a modern and unique accessory. Handmade with precision and care, this timepiece features a genuine Ebony Wood dial, perfectly encasing a high-quality Japanese Quartz movement. The combination of wood and stainless steel not only ensures durability but also adds a touch of elegance to your wrist. With a leather band that offers both comfort and style, this watch is not just a functional accessory but a statement piece that complements your individuality. To make it even more special, it can be personalized, allowing you to engrave a message or initials, making it a meaningful gift or a distinctive addition to your own collection.
---
3. Wood roses with real wood branches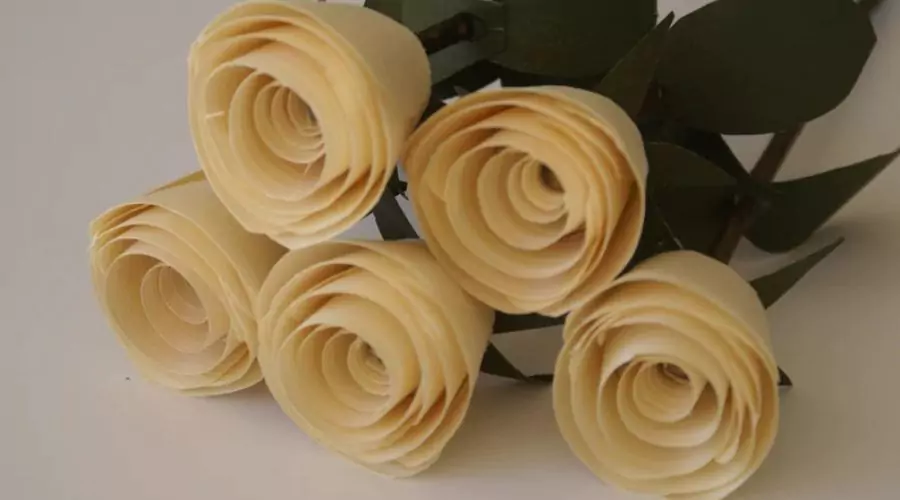 The set of 5 Wood Roses with Real Wood Branches represents the perfect modern anniversary gift. Each rose in this exquisite set begins as a carefully selected block of wood, transformed with precision and skill. Using finely tuned, razor-sharp hand planes, paper-thin shavings are crafted into delicate rose petals. These petals are then thoughtfully arranged around a stem, cut from a real tree branch, infusing each rose with a touch of the natural world. To complete the lifelike appearance, two green-painted leaves are expertly attached. This unique gift symbolizes the enduring growth and beauty of a love that continues to flourish, making it a meaningful token of affection.
---
Conclusion
The fifth wedding anniversary, celebrated with wood, invites couples to exchange meaningful and enduring gifts that reflect the strength and growth of their love. Whether traditional or modern, these wooden treasures serve as tokens of affection and a testament to the enduring bond shared by two people. Embrace the timeless charm and create lasting memories with these wood anniversary gifts from Etsy.
For more information, visit Xprrtupdates.
FAQs