Composite decking board offers remarkable durability, preventing rot, decay, and insect damage without requiring regular maintenance like traditional wood decks, so you should consider purchasing it. As it is frequently constructed from recycled materials and doesn't contribute to deforestation, composite decking is also environmentally beneficial. Finally, the decking board creates a useful outdoor area that is visually appealing and adaptable to a variety of weather conditions, making it a long-term investment in the beauty and functionality of your outdoor living space.
A flat, frequently rectangular wooden or composite plank known as a decking board is used to build patios and outdoor decks. In your outdoor living space, these boards provide the main surface for sitting, walking, and other outdoor activities. For anyone looking for the ideal decking material to meet their budget and design choices, Travis Perkins is known for having the best assortment of decking boards across a wide range of prices and variations.
What Are the Benefits of Composite Decking?
Numerous advantages make composite decking a popular option for outdoor decking projects.
Composite decking is renowned for being long-lasting and requiring little upkeep.
It is resistant to rot, decay, and insect infestations that's why it doesn't need to be maintained as frequently as conventional wood decking.
While providing improved colour retention and fading resistance, it can replicate the appearance of actual wood.
In addition, composite decking frequently consists of recycled materials, making it a sustainable choice.
Because of its endurance and the fact that it doesn't contribute to deforestation, replacing it less often may ultimately be more sustainable.
Overall, composite decking has several advantages that many homeowners find appealing, including durability, low maintenance, design versatility, and environmental considerations.
The Best Decking Boards by Travis Perkins
1. TREATED TIMBER Decking Board 35mm x 148mm x 4.8m (Finished Size 32mm x 144mm x 4.8m)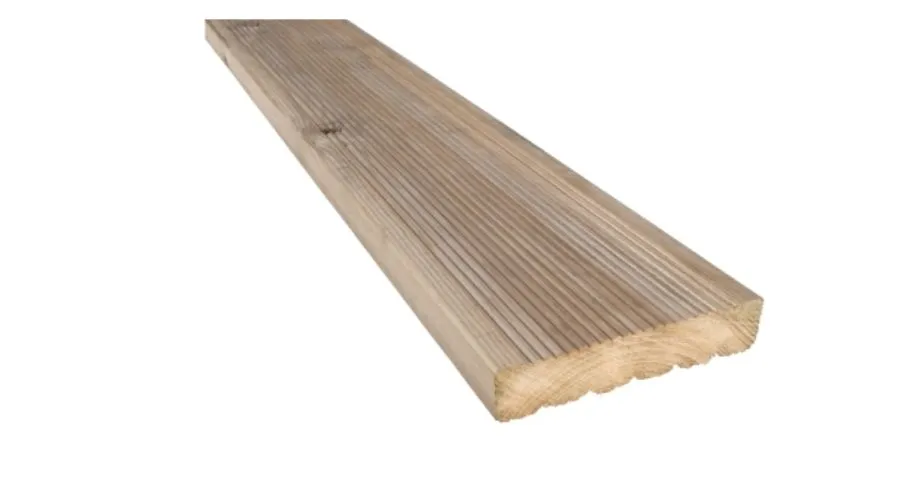 The strong Scandinavian redwood pine used in the construction of this treated timber decking board ensures great durability and lifespan. This board's pressure-treated finish, which offers resistance to water, rot, fungi, and moisture, makes it durable and low-maintenance. Its stability is further increased by kiln drying, making it perfect for outdoor use. It is an eco-friendly option that is ethically sourced, and because of its versatility, you may customize your decking project by clinching, planning, drilling, and sawing. It's great for outside areas because it works as a tough shield to protect fence panels or boards from water and dirt on the ground.
---
2. Gripsure Decking Ex 125 x 32 x 3000mm Pack Size of 5 Pieces
This Gripsure Decking board features a typical grooved decking board profile with two non-slip strips for enhanced grip and year-round safety. It has dimensions of 125 x 32 x 3000mm and comes in a pack size of 5 pieces. This decking, which is made from premium redwood, has a remarkable 15-year "in service" life due to a successful timber preservative treatment. A 10-year non-slip performance warranty adds peace of mind. This decking board has a wide range of uses and can be applied in many different places, such as residential and commercial decks, access ramps, pedestrian areas, schools, hotels, and restaurants. It's a great option for individuals looking for both usefulness and elegance in their outdoor spaces because it prioritizes safety and not just style.
---
3. Bsw Green Treated Decking Scotland 29 x 124mm x 4.2m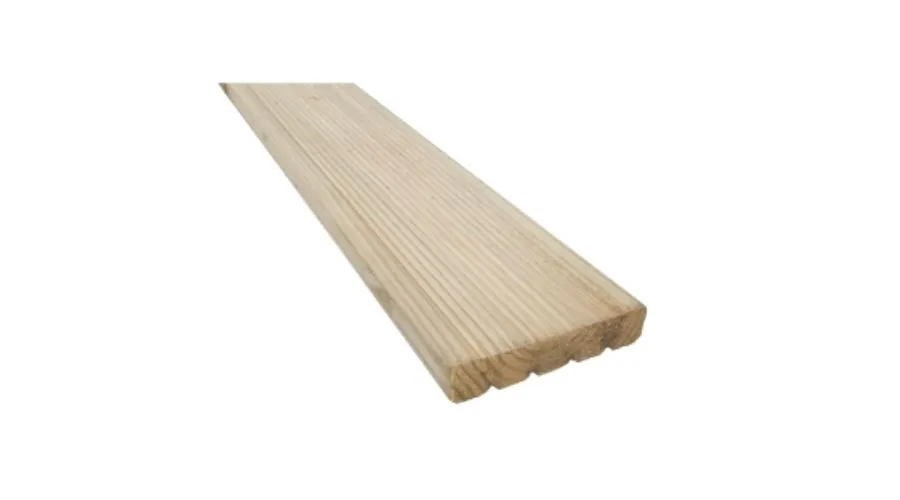 A high-quality decking board made from slow-grown pine, BSW Green Treated Decking Scotland ensures the building of an attractive and long-lasting decking area that smoothly extends your living space into the garden or offers a tranquil retreat. With a completed size of 26mm by 120mm, it's a durable and solid option that has been pressure-treated for increased longevity and rot resistance. Additionally, kiln drying improves its stability, and for additional security, all cut ends should be sealed with a special treatment. This wood is responsibly sourced from accredited European forests, ensuring environmental responsibility. It adds aesthetic appeal to your outdoor space in addition to structural stability thanks to its appealing grooved surface.
---
4. Pressure Treated Timber Decking Board 29mm x 124mm x 3m (Finished Size 26mm x 120 mm x 3m)
A high-quality outdoor decking option, the Pressure Treated Timber Decking Board is made of Scandinavian Redwood Pine for longevity and little care. Tanalith 'E,' which is applied to this board under high pressure, gives it an outstanding 15-year service life. Kiln drying makes it more stable and guarantees its dependability in a variety of climatic situations thanks to its resistance to moisture, rot, fungi, and water. In addition to being sustainable, wood that has been procured responsibly can be clinched, planned, drilled, and sawed to suit your project's requirements. It also acts as a strong barrier to keep fence panels or fence boards away from moisture and dirt at ground level, making it a sensible and durable option for outdoor installations.
---
5. Bsw Treated Incised UC4 Hg C16 Regularlised Deck Joist Green 47 x 150mm x 3.6m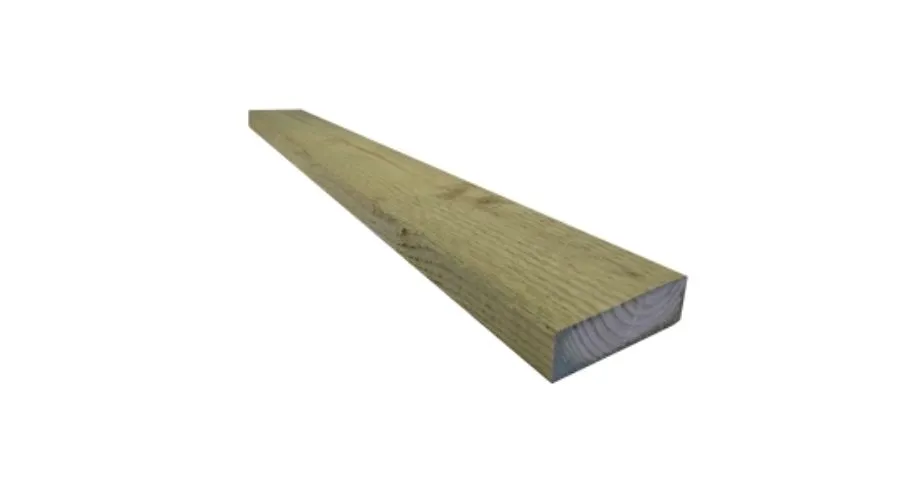 This Bsw-treated decking board is a strong and adaptable option for deck building and is intended for ground-level contact with a User Class 4 treatment. This joist, which has been pressure treated and given a lovely green finish, is not only useful but also attractive. It is proudly made in the UK to support British industry and guarantee top-notch workmanship. It's crucial to use the right wood sealer to seal the cut ends in order to preserve their lifetime. Additionally, the wood is ethically produced from managed forests, representing a choice for your decking needs that respects the environment.
---
Which Is Better, Wood Decking or Composite Decking?
Your personal requirements and preferences will ultimately determine whether you choose wood decking or composite decking. Many people believe wood decking boards have a timeless, natural aesthetic. With its distinctive grain patterns and warm tones, it offers a real sense of connection to nature. However, it needs additional upkeep, including periodic sealing or staining and attentive monitoring for rot or insect damage. Wood decking can be the best option for you if you're dedicated to maintenance and value the genuine wood look, especially if you place a high value on the environmental advantages of wood that is acquired responsibly.
Composite decking, on the other hand, offers durability and practicality. It requires little upkeep and often only needs periodic cleaning, which can ultimately save you time and money. Composite boards are a more durable solution because they are resistant to rot, decay, insects, and moisture. The longer lifespan and lower maintenance costs can eventually offset the greater initial cost, which may be higher.
While choosing a decking board, keep in mind that composite decking might be a preferable option for your outdoor area if you value simplicity of care, toughness, and environmental friendliness due to the use of recycled materials in some composites. The ideal choice ultimately depends on your priorities and how you balance the benefits and drawbacks of each decking material.
---
Also Read – The Symbolic Charm: Exploring The Meaning Of Sunflower Gifts
---
Conclusion
Decking boards are crucial parts of outdoor decks and patios because they provide a surface for walking on and setting furniture on. They are made of a variety of materials, including composites and wood, each with a unique set of benefits and traits. Any outdoor project's selection of decking boards is crucial, and it depends on a number of things, including aesthetics, upkeep, durability, and environmental issues.
Travis Perkins gives homeowners and builders the assurance that they will get the best decking solutions for their unique needs and preferences because of its reputation for providing a wide selection of decking boards, professional advice, and a dedication to quality. For more information on decking boards, visit Xprrtupdates.
FAQs