From adoration and happiness to loyalty and longevity, sunflower gifts symbolize multiple heartfelt emotions, making them a versatile and cherished choice for expressing affection, celebrating friendships, or brightening someone's day. Join us on this journey as we uncover the symbolism behind sunflower gifts and discover the warmth and positivity they bring to every occasion. We also have some sunflower gift ideas for every occasion.
What are sunflowers a symbol of?
Adoration: Sunflowers symbolize adoration and admiration, making them a popular choice for expressing love and affection.
Happiness: Their bright, sunny appearance represents happiness, joy, and positivity, making them ideal gifts to uplift spirits.
Loyalty: Sunflowers are often seen as a symbol of loyalty and fidelity, making them a meaningful choice for romantic partners.
Longevity: The sturdy and tall nature of sunflowers is associated with longevity and lasting bonds, making them fitting gifts for friends and family.
Growth and Positivity: Sunflowers track the sun's movement, symbolizing growth, resilience, and the pursuit of positivity in life.
What do you buy with sunflowers?
Sunflowers can stand alone as a stunning gift, but they can also be paired with other thoughtful items to create a personalized and meaningful present. Here are some ideas for sunflower gifts:
1. Sunflower Wedding Frame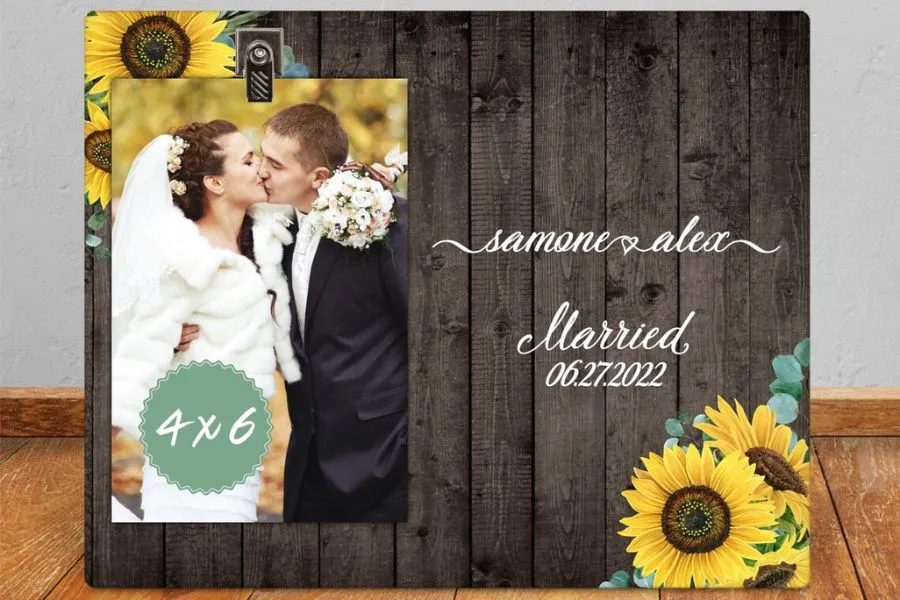 Introducing Sunflower Wedding Frame, the perfect gift for bridal, engaged, and newlywed couples. This Hardboard Picture Frame offers a stylish and versatile way to display precious memories. You can add your personal touch by customizing it with names, dates, background options, and font type. Crafted from durable hardboard with a glossy finish, this frame not only enhances your photos but also adds an elegant touch to any space. The realistic wooden backgrounds provide the charm of wood without the need for upkeep.
---
2. Sunflower Cooking Gift Box
Treat your loved ones, or even yourself, to a delightful surprise with this Sunflower Cooking Gift Box. Inside this special box, you'll find a charming assortment of sunflower-themed kitchen essentials, from towels and mugs to oven mitts and candles, all designed to create a cozy and inviting atmosphere. This thoughtfully curated box comes ready to brighten someone's day, shipped securely inside a large padded box for protection. Plus, it has included a personalized card and packaged it all beautifully with crinkle paper and ribbon.
---
3. Sunflower Anklet Charms Ankle Bracelet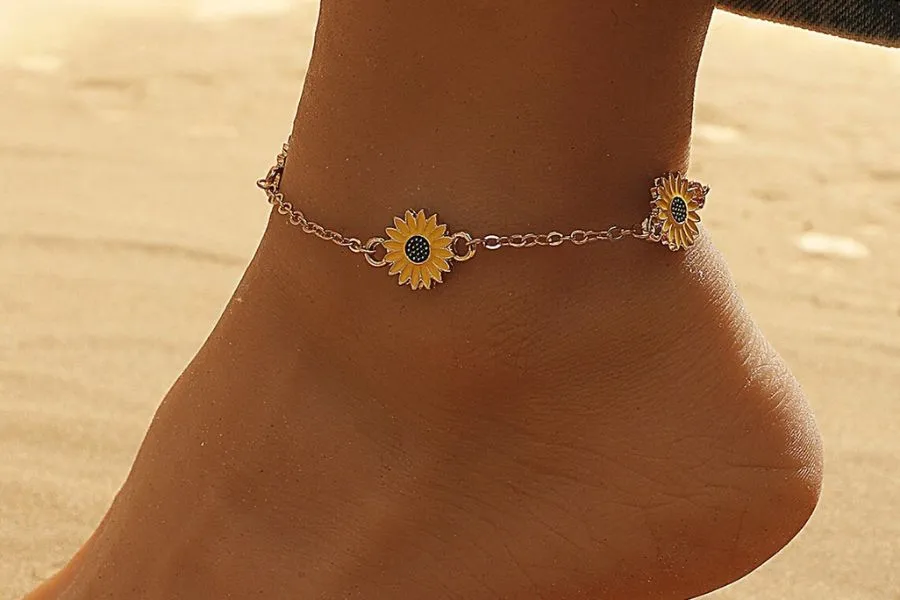 The Sunflower Anklet Charms Ankle Bracelet is not just a piece of jewelry; it's a beautiful gift that exudes aesthetic elegance. Handmade with precision and crafted from high-quality alloy, this anklet is a symbol of exquisite craftsmanship. It makes one of the ideal sunflower gifts for women who appreciate both nature's beauty and fine accessories. Whether she's dressing up for a special occasion or embracing a casual, boho-chic look, this anklet adds a touch of charm to any ensemble.
---
4. Sunflower Gift, Message in a Bottle
Celebrate the beauty of sunflowers with this Handmade Sunflower Gift, nestled inside a charming glass bottle. This unique creation features a real sunflower alongside a sprinkle of glitter, capturing the essence of nature's radiance. A carefully crafted message is sealed within the bottle, waiting to convey your heartfelt sentiments. Whether you're expressing affection, offering encouragement, or simply brightening someone's day, these type of sunflower gifts in a bottle is a heartfelt and artistic way to do so.
---
5. Sunflower Stained Glass Wall Painting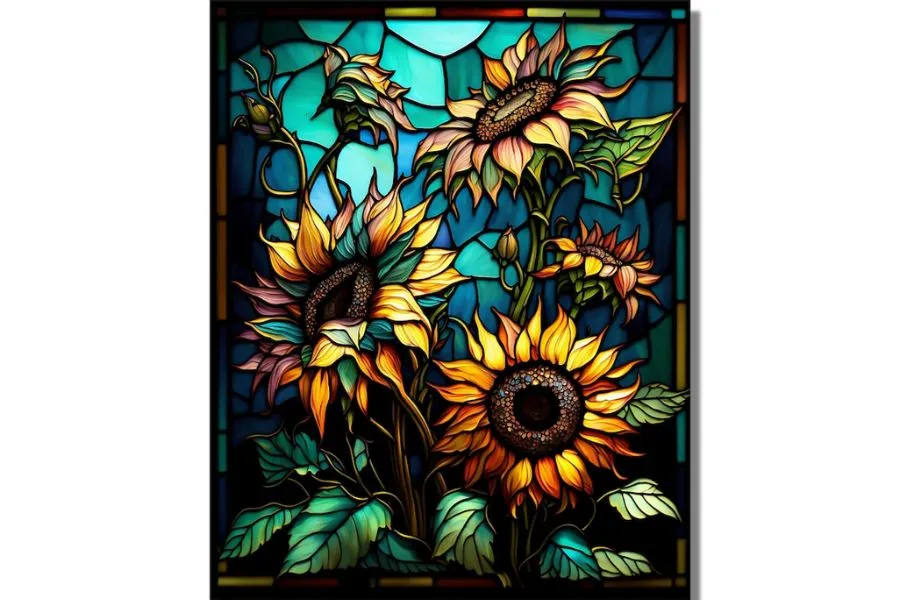 The Sunflower Stained Glass Wall Painting is not just art; it's a perfect gift that transcends traditional gifting. Meticulously crafted by hand and composed of premium materials such as tempered glass and specialized glass printing, this masterpiece captures the essence of sunflowers with unparalleled detail and vibrancy. Its frameless design adds a touch of contemporary elegance, ensuring that the artwork itself becomes the focal point of any space. It's a thoughtful and enduring present that brings the timeless charm of sunflowers into their world.
---
6. Sunflower Seedlings
Sunflower Seedlings offer the gift of life and growth to any gardening enthusiast. These live plants, ready to be transplanted into your garden, are a thoughtful choice for nature lovers and green thumbs alike. With heights ranging from 3 to 6 inches, these vibrant seedlings are the perfect start to cultivating your own sunflower haven. What makes them even more special is that they are non-GMO, ensuring that your garden thrives with healthy, natural beauty.
---
Is It okay to give sunflowers to a friend?
Yes, sunflowers are not limited to romantic gestures; they are versatile gifts suitable for friends as well. Sunflowers represent friendship, loyalty, and longevity. Giving a friend a bouquet of sunflowers can signify your enduring bond and appreciation for their companionship. It's a thoughtful gesture for occasions like friendship anniversaries, to uplift a friend during challenging times, or to simply remind them of the sunshine they bring into your life.
What does a sunflower mean in a relationship?
In the context of a romantic relationship, sunflowers carry a message of adoration, loyalty, and the warmth of love. They symbolize a deep and abiding affection for your partner, expressing your admiration and appreciation. Sunflower gifts for your partner can be a wonderful way to celebrate milestones, express love, or simply brighten their day with a burst of positivity.
---
Also Read – What Makes Composite Decking Board The Ideal Choice For Outdoor Space?
---
Conclusion
The meaning of sunflower gifts from Etsy extends far beyond their radiant appearance. They convey sentiments of love, friendship, happiness, and loyalty, making them versatile and cherished presents for various occasions and relationships. Whether you're expressing admiration for someone special, celebrating a cherished friendship, or simply spreading joy, sunflowers are a timeless and symbolic choice that resonates with hearts and brightens lives. So, the next time you're looking for a meaningful gift, consider sunflower gifts from Etsy a symbolic charm—it's sure to leave a lasting impression. For more information on sunflower gifts, visit Xprrtupdates.
FAQs