There's no doubt that long, lush lashes are an enticing attribute in the realm of beauty and cosmetics. However, not everyone is born with naturally thick lashes. That's when false eyelashes come in handy. These little but powerful cosmetic tools on LOOKFANTASTIC have changed the game for makeup aficionados, celebrities, and average people alike. We'll dig into the world of fake eyelashes in this detailed guide, studying their varieties, application procedures, maintenance advice, and why they've become a must-have for improving your eye makeup.
False eyelashes have many faces
False eyelashes are available in a range of forms and materials to suit a variety of tastes and occasions:
Strip lashes: 
The most popular variety, strip lashes have a whole row of lashes put atop your natural lashes. They are available in a variety of lengths, volumes, and styles, making them appropriate for anything from a natural daytime appearance to a beautiful evening look.
Individual lashes: 
Individual lashes are little clusters or single lashes that may be applied as required. They provide a versatile and unobtrusive approach to improve your lash line.
Magnetic lashes: 
Magnetic lashes remove the need for glue, making them the most recent breakthrough in the field of fake eyelashes. They have small magnets that adhere to one another and sandwich your natural lashes between them.
Feather lashes: 
Feather lashes provide a whimsical touch to your eyes by using feathery extensions to create a delicate and fluttery effect.
Coloured lashes: 
For those looking for a bold and unusual style, coloured lashes come in a variety of colours, enabling you to show your creativity.
Best false eyelashes by LOOKFANTASTIC
Eylure false lashes – fluttery light no. 008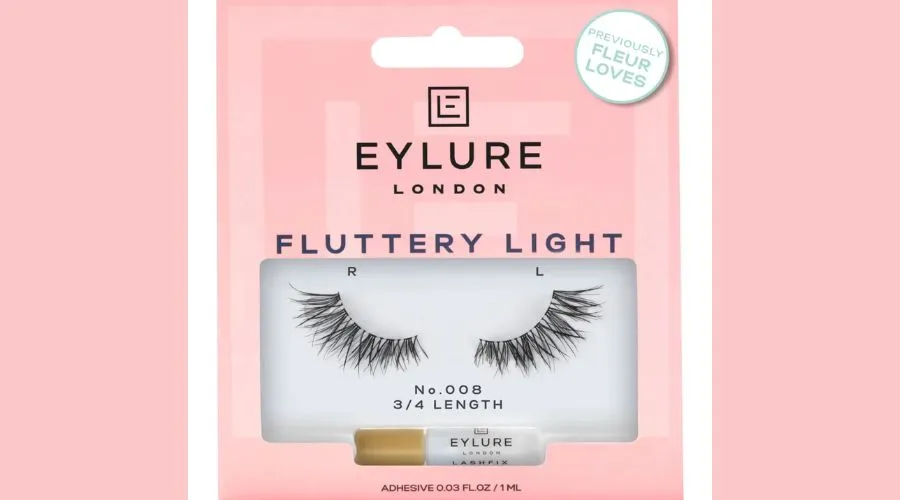 For a light, feathery look that's ideal for daily use or a modest evening augmentation, Eylure false eyelashes in the fluttery light no. 008 design gives a delicate and natural improvement to your eyelashes. These lashes are intended to give you a lovely, fluttery appearance without being too theatrical by adding volume and a little length. The No. 008 set is especially appropriate for those who want a more subtle, traditional eyelash style. 
Eylure is renowned for its comfort and simplicity of application, and these lashes have a glue that keeps them in place from the moment they are applied until they are taken off. The Fluttery light no. 008 lashes are an excellent option for enhancing your natural beauty with a hint of elegance, regardless of your level of experience with fake eyelashes.
---
     2. Eylure false eyelashes – 3/4 length no. 002
A distinctive choice for lash augmentation is provided by Eylure false eyelashes in the 3/4 length no. 002 style. These lashes cover around three-quarters of your natural lash line, giving you a delicate but unique appearance. They give your outer lashes more length and fullness, which opens your eyes. For individuals who want a little additional flare without making the commitment to full-length lashes, the 3/4 length style is ideal. 
Eylure is renowned for its easy application and pleasant fit, and these lashes have adhesive to guarantee that they remain in place all day or all night. The 3/4 length no. 002 lashes are an amazing option for creating an attention-grabbing appearance that's both stylish and practical, whether you're going to work or going out for a special event.
---
     3. Kiss Falscara eyelash wisp multi – 02-natural wispy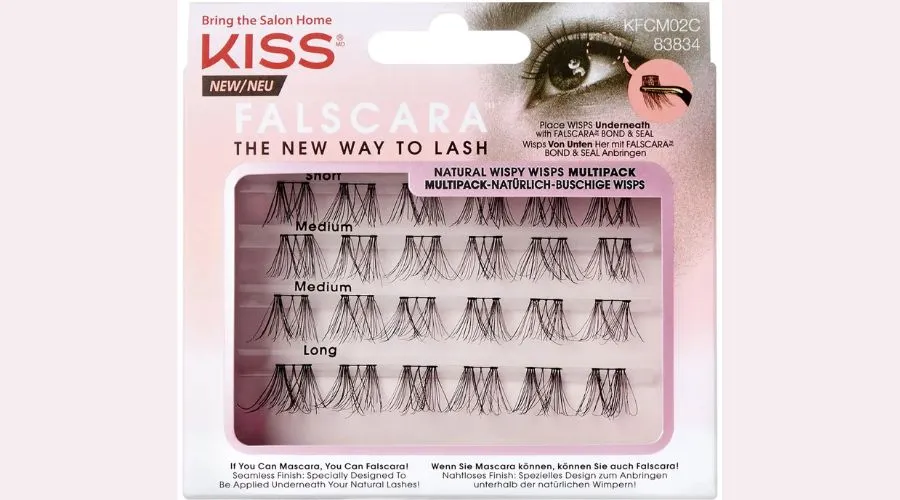 Kiss Falscara eyelash wisp multi – 02-natural wispy provides a novel approach to effortlessly get the sought-after natural, wispy lash style. With the look of lush, fluttery lashes that blend in perfectly with your natural lash line, this set is meant to give you a feather-light sensation. The '02' style is designed to accentuate your eyes in a subtle way, giving them the perfect amount of length and volume for a gorgeous but realistic appearance. The application of the wisps under your own lashes creates a very natural appearance and pleasant use. 
Kiss Falscara's method of applying lash extensions at home is ideal for those who want the appearance of eyelash extensions without having to dedicate time to a salon, making it a fantastic option for both everyday use and special events.
Also Read – The Truth About Eyelash Curlers: Do They Damage Your Lashes?
---
Conclusion
In summary, artificial eyelashes are a versatile and easy-to-use cosmetic product that can instantly boost any appearance. There is a style to fit every taste and occasion, whether you like the dramatic fullness of strip lashes, the delicate enhancing of individual lashes, the creative application of magnetic lashes, or the whimsical appeal of feather and coloured types. It's now simpler than ever to get salon-quality lash looks at home with reliable products on LOOKFANTASTIC like Kiss Falscara Eyelash Wisp and Eylure's false eyelashes. 
Accept the appeal of fake eyelashes and let your eyes convey a message that is as distinct as you are. For more information about Ardell naked lashes, visit the official website of Xprrtupdates.
FAQ's